Part I - Metal Detecting at the Swedish Tavern Site, page 9
Recovering 19th Century Russian Naval Belt Buckle
While I was preoccupied with Bobby, Nikolai dug up something cool and was now running towards us, holding something in his hand (as usual).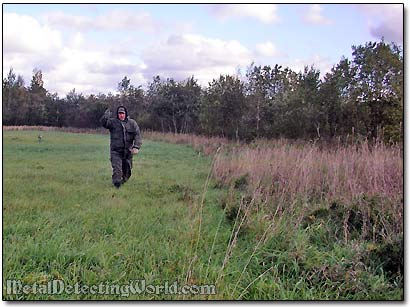 Nikolai's find was a Russian Naval officer's belt buckle, circa late 18th century. One corner of the buckle was bent, nevertheless this was a great relic find!
Russian Naval Officer's Uniform Belt Buckle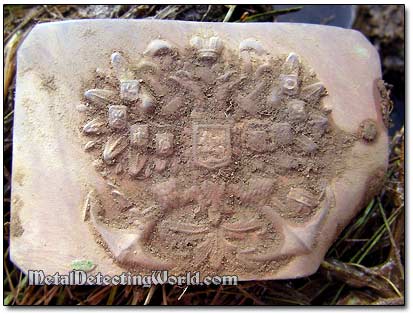 My first find made my heart stop for a second. When I saw a large round disk of silvery color in the hole, I thought I recovered a large silver coin!
A Silver Coin?!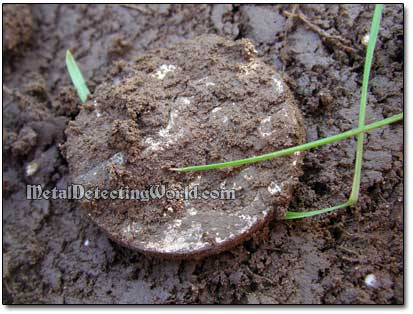 A second later, I noticed the object did not have a smooth surface like of a coin. It had some mechanical parts and a cogwheel visible through the dirt.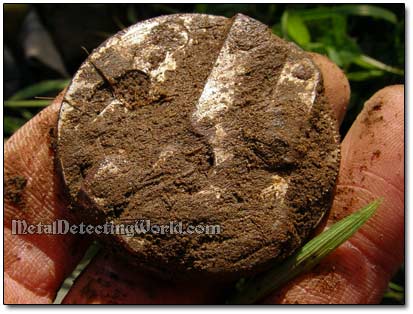 Number of pages: < Previous | 1 | 2 | 3 | 4 | 5 | 6 | 7 | 8 | 9 | 10 | 11 | 12 | 13 | 14 | 15 | 16 | 17 | 18 | 19 | 20 | 21 | 22 | 23 | 24 | 25 |

| 26 | 27 | 28 | 29 | 30 | 31 | 32 | 33 | 34 | 35 | 36 | 37 | 38 | 39 | 40 | 41 | 42 | 43 | 44 | 45 | 46 | 47 | 48 | 49 | 50 |

| 51 | 52 | 53 | 54 | 55 | 56 | 57 | 58 | 59 | 60 | 61 | 62 | 63 | 64 | 65 | 66 | 67 | 68 | 69 | 70 | Next >