Part I - Metal Detecting at the Swedish Tavern Site, page 44
Visiting the Coporie Fortress
Soon we arrived to the place which I had not seen in six years - the Koporye (Caporie) fortress, which was suitable for carrying out the "end of season" ritual. This medieval citadel saw many historical events in the past and had seen hundreds of treasure hunters in the past 10 years. Why not to try the E-Trac detector at this "hammered to death" location as well!
Eastern Wall of Koporye Fortress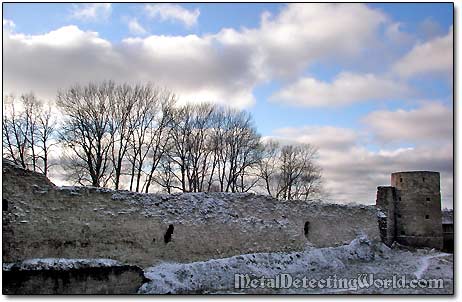 Of course, we were not going to metal detect in the middle of a historical landmark! We made a stop here just to pay a visit to the fortress, get some hot tea at the snack booth, take a few pictures, and be like regular tourists for a change.
Western Wall and Northern Tower of Koporye Fortress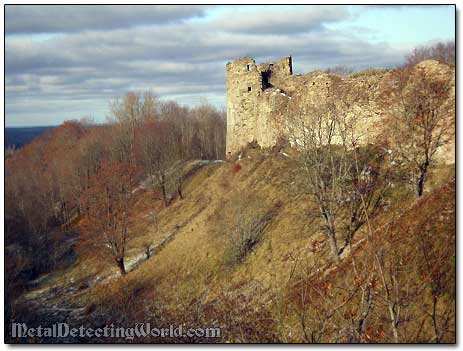 The most searched out site near the fortress was a large field which had not been heavily covered with snow. Now it was interesting to see if the E-Trac would pick up at least one non-ferrous signal, low or high. God (of Metal Detecting) only knew how many hundreds of detectorists had previously been at this spot! Nikolai's DFX was not getting any signals at all.
Koporye Citadel in the Background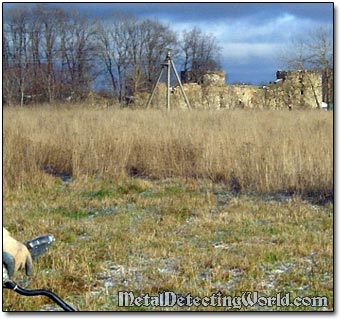 Not to get frozen in the winter wind, Nikolai began digging the iron targets.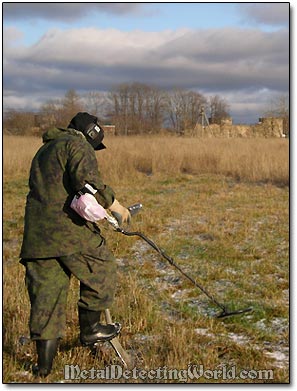 Number of pages: < Previous | 1 | 2 | 3 | 4 | 5 | 6 | 7 | 8 | 9 | 10 | 11 | 12 | 13 | 14 | 15 | 16 | 17 | 18 | 19 | 20 | 21 | 22 | 23 | 24 | 25 |

| 26 | 27 | 28 | 29 | 30 | 31 | 32 | 33 | 34 | 35 | 36 | 37 | 38 | 39 | 40 | 41 | 42 | 43 | 44 | 45 | 46 | 47 | 48 | 49 | 50 |

| 51 | 52 | 53 | 54 | 55 | 56 | 57 | 58 | 59 | 60 | 61 | 62 | 63 | 64 | 65 | 66 | 67 | 68 | 69 | 70 | Next >