Part II: Revisiting the Swedish Tavern Site, page 70
All Silver & Copper Coins I Metal Detected at "Virgin" Site
The Minelab E-Trac has performed very well as usual and given me a great opportunity to find more coins, both shallow and deep ones. Unfortunately a number of "deep" coins had not survived the devastating effects of mineralization over time.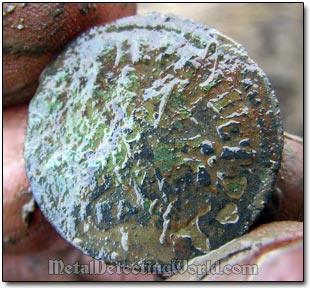 Example of a Coin "Eaten" by Mineralization
34% of all dug copper coins comprised the coins in Very Poor condition.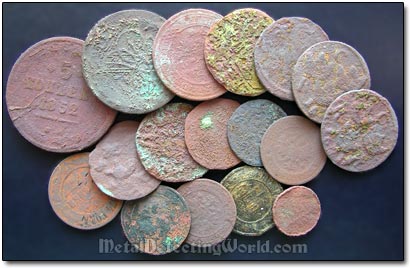 Coins in Very Poor Condition
26% of copper coins that I had unearthed were the coins in slightly better condition - Poor. These coins had remained in the ground at shallow depths and, therefore, had been less damaged by the soil minerals.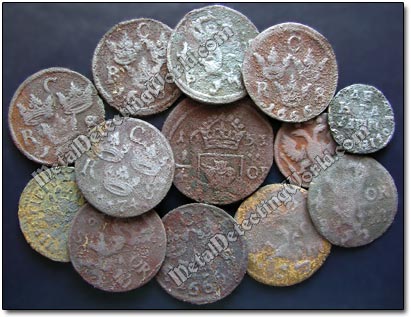 Coins in Poor Condition
Only 38% of all copper coins were worth of cleaning and conditioning. Most of them were the Swedish coins due to better quality of their coin metal.

Copper Coins in Good Condition and Silver Coins That I Found During Metal Detecting Hunt
After this metal detecting outing, the total number of coins that I have recovered at the tavern site have increased to 86. The total number of coins that were found by all people who have participated in various hunts at this site has not been counted.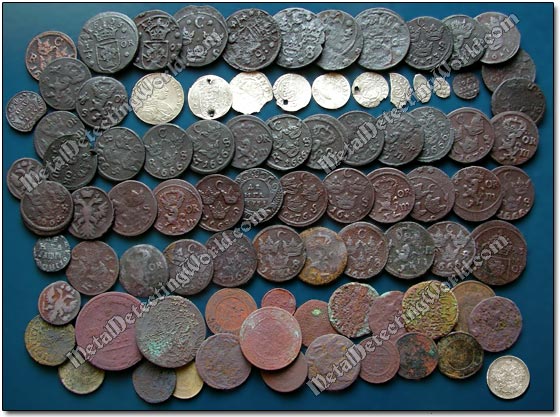 All Coins That I Have Found at Swedish Tavern Site So Far
...Before ending this second part of my story, I need to bring my "thoughtful exploration" of the "human-detector" subject to some conclusion as well. I want to make it clear: the process of preparation for receiving a "signal" from the object buried in the field (call it "tuning yourself up") is RATIONAL while the process of receiving the signal during metal detecting is IRRATIONAL. The latter is quite opposite, for example, to searching around cellar holes (see my article Metal Detecting Cellar Holes) when some analytical thinking and reasoning must be involved. However, this approach can be applied to searching cellar holes after you would have hammered the site to the last signal, and decided to locate a coin cache possibly buried there.
As soon as you step on the search ground in the farm field and turn on your detector, you should also turn on your prepared "memory pattern" consisting of memories of feel, sight and sound of the object you intend to find. But you must TURN OFF your REASONING before you get an urge to walk in one certain direction! Do not think trying to find the RATIONALE of your action, i.e. questioning your behavior. Just do it! When you see the results, you will know that you will have done it right.
My thinking loud has not been in any way my "how-to" instructions for finding a desirable coin in a farm field by using some sort of the inner-human device. (Even though it certainly looks like that!) There are still many unanswered questions about this type of search! I have just given you some "food for thought", and you are more than welcome to express you opinion, ideas and thoughts, especially if you have had similar experiences! (This web page always has enough room for your story!)
Whether you will try to develop your ability to "register" objects on subconscious (subliminal) level or not, it is up to you now. Just remember that there is always a solution to any problem, and if you do not possess a "detector within yourself", you are still able to make great finds through the hard work of treasure hunting with your electronic metal detector!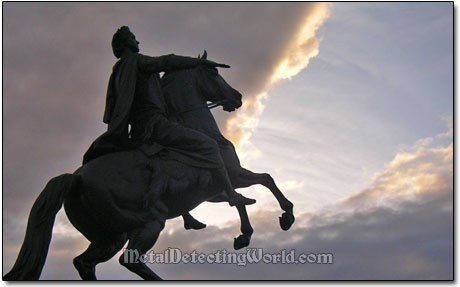 The "Bronze Horseman" Monument, ca. 1782 - Famous Statue of Peter The Great in St. Petersburg, Russia
Happy Hunting!
If you would like to point out any errors, ask me a question, express your opinion, please send me an e-mail. If you have discovered a treasure, whether it is a rare relic or coin, or a large coin hoard, and you took pictures of the process, and would like to share your exciting experience with metaldetectorists around the world, please do not hesitate to do so:
If you would like to follow me on Twitter, please press a button:
Sources: Tonkin A., Myntboken 2003, 2002