Basic Metal Detecting Equipment
Tools, Accessories, & Devices To Make Your Treasure Hunting Successful
Proper treasure hunting equipment and outdoor gear are essential for successful and safe metal detecting.
Depending on what type of metal detecting activity one does, the variety of items can differ from just a coin pouch and a digging trowel (for a few hours of coin shooting in the park) to the off-road vehicle loaded to the top with equipment and gear for an extended treasure hunting trip. In all cases, the rule of thumb is simple: be prepared for all possible situations that may occur during your outdoor activity.
While developing the following pages, I realized that if I wanted to describe all the traveling, camping, hiking, and outdoor equipment and gear that I use on my metal detecting trips, I would have to build another web site. So I narrowed my list to just basic necessities without which I would not be able to accomplish my treasure hunting projects.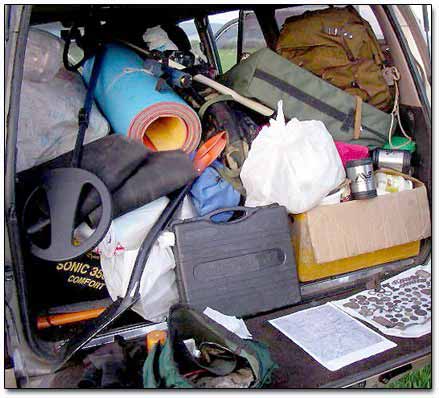 If you need to learn what metal detectors, equipment and accessories are used for each type of all metal detecting activities, please visit my detailed Guide to Types of Metal Detecting. Whether you are a beginner metaldetectorist or an experienced treasure hunter, you might find the information in that guide and on these pages helpful and useful for your own decision-making process when it comes to what equipment to use for successful treasure hunting.
Equipment I Use:
Metal Detectors
Headphones
Digging Shovels and Trowels
Pinpointers & Electronic Probes
4x4 Vehicle
Head Lamp
Digital Camera
Gadgets
Battery Chargers and Batteries
Travel Hard Suitcase
Night Vision Goggles
Miscellaneous Items
Metal Detector Reviews Worldwide | Useful Articles page | Secrets for Beginners | Home