LED Head Lamp
Lightwave Pro2020 Illuminator
Light emitting diodes (LED) Head Lamp is simply a flashlight that is worn on your head for hands-free operation.
It is a great tool for close work in the darkness or any dark area when metal detecting, camping, hiking, fishing, inspecting for signs of wildlife, mechanical repairs, etc. Also it is perfect for wearing indoors during power failures or blackouts.
I have used the Lightwave Illuminator during my night hunts for years and still have an original one.
Because of its compact, shockproof, and waterproof design, long-running performance (330 hours!) on one 3-AA-batery set, it has never let me down.
Without a doubt, it is a must for any treasure hunter. I always keep it in my jacket pocket during metal detecting outings.
Lightwave Pro2020 Illuminator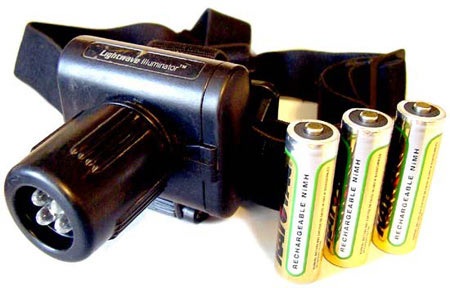 HEAD-LAMP SPECIFICATIONS:
Super-Bright, visible for over one mile
Solid-state Light Emitting Diode (LEDs) last thousands of hours
Space-age solid state circuitry makes batteries last 14 times longer than a standard head torch.
Waterproof - 2 feet - not for scuba.
Shockproof - has withstood drop test of 10 feet
3 year warranty - covers everything except batteries and abuse
High impact composite case
Utilizes 4 super-bright white LED light sources
Uses 3 AA alkaline batteries
Twist illuminator head - easy on/off.
One inch wide adjustable elastic strapping
Angle adjuster-plate allows the light angle to be directionally adjusted up or down.
If you would like to recommend this article to everyone, please click the button:
My Equipment Page | Metal Detector Reviews Worldwide | Useful Articles page | Secrets for Beginners | Home