Hard-Shell Carrying Case for Transporting Your Metal Detector
Samsonite Hard-Shell Suitcase Provides Ultimate Protection & Safety for a Metal Detector
While traveling by plain, train or bus, a Hard-Shell Carrying Case or Travel Suitcase is the best solution for transporting your metal detector, metal detecting gear and accessories.
Traditional rolling hard suitcases and wheeled hard-shells provide the ultimate in metal detector protection and solve the numerous problems of long walks through terminals and parking lots with your luggage.
I was a lucky one to purchase a vintage travel hard suitcase, made by Samsonite probably in 1960s, at the yard sale for just a $1! And it still had a key!
Travel Carrying Hard Wheeled Suitcase by Samsonite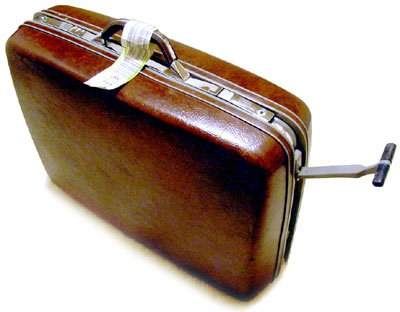 The travel case's interior is usually fully foam-padded, and there's enough room inside for a detector plus room for coils, headphones, accessories, outdoor clothing and gear, and small digging tools. A durable and reliable shockproof design would allow you to check the hard suitcase in the plain's cargo compartment and feel no worry about your gear safety.
Enough Room For Everything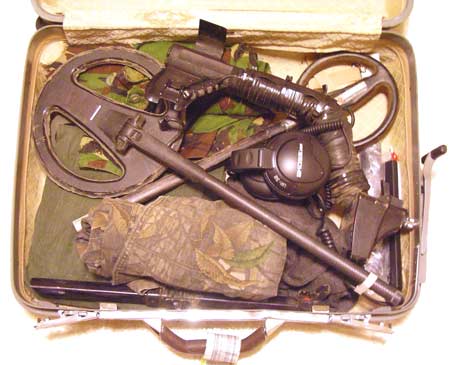 Dimensions: 27.5" x 19.5" x 8"
If your suitcase does not have the padded interior, make sure you protect the most vital and vulnerable parts of your metal detector - control box and search coil, from accidental or excessive shocks. I usually wrap the detector's parts up with the bubble-wrap or thick cloths if I the former is not available. And I make sure any hard or sharp object, packed along with my metal detector in the suitcase, does not come into contact with a detector.
Backpacks
For everyday transporting and carrying a metal detector to and from the hunt sites, a compact backpack is an essential item in the arsenal of any treasure hunter. It is important to protect your equipment while you are on the road or hiking trail. Made specifically for any particular brand of metal detectors, the well-designed backpacks with many options including padding, zippered pockets, multiple pockets, and manufacturer logos are perfect for carrying one's metal detector under any outdoor conditions.
A Compact Backpack Designed for Carrying Pulse Star II Pro Deepseeker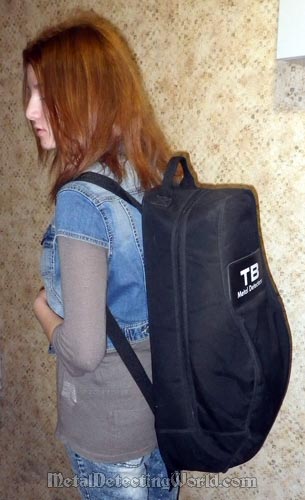 Contents of Pulse Star II Pro Backpack: Folded 1m x 1m Search Frame, Control Box & Battery Charger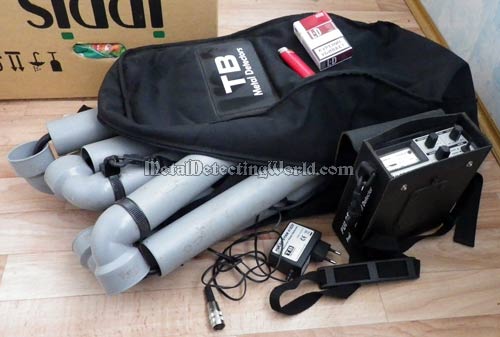 If you would like to recommend this article to everyone, please click the button:
My Equipment Page | Metal Detector Reviews Worldwide | Useful Articles page | Secrets for Beginners | Home