The Best Metal Detecting Finds of Other Treasure Hunters Worldwide
Bronze Age & Medieval Relics, Coins & Jewelry Treasure Finds in Europe & USA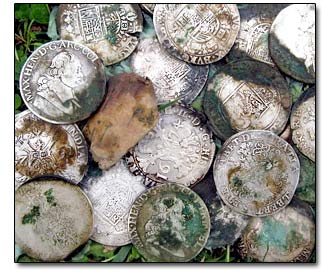 If you would like to recommend this section to everyone, please click the button:
The following pages include photographs of the best finds that have been submitted to me by treasure hunters from both the US and other countries. Some coins and relics depicted in the pictures are not specifically identified unless their identity was provided by the finder.
The photos are to give you an excellent opportunity to see what regular metaldetectorists recover in different parts of the world.
If you would like to show photographs of your metal detecting finds, please do not hesitate to submit the pictures and a short paragraph about yourself. People around the world would be interested to see what has been found in your country, so here is a great opportunity for you in representing your home land!
Seeing many great finds of others would be very inspirational to both the weathered treasure hunters and novices. Everybody else might develop an interest in our wonderful hobby!
• Dave in UK - Relic Hunting & Coin Shooting (64 images)
• Paul in UK - Relic Hunting & Coin Shooting
• Silverman777 in UK - Finds Made With Teknetics T2: Programs
• Daniel in France - Relic Hunting & Coin Shooting (46 images)
• Guenter in Bavaria, Germany - Battlefield Relic Hunting
• Markus & Tapio in Finland - Relic Hunting & Coin Shooting (17 images)
• Alex in North-East USA - Beach/Surf Metal Detecting (32 images)
• Dmitry in Byelorussia (Belarus) - Coin Cache Hunting
• Ossi in Finland - Relic Hunting & Coin Shooting
• Jerry in Virginia, USA - Civil War Relic Hunting
• Chris in Poland - Cache Hunting
• Derek in New York, USA - Metal Detecting & Relic Hunting
• Tim in New York, USA - Metal Detecting
• Andrei in Russia - Ancient & Medieval Relic Hunting
If you would like to recommend this section to everyone, please click the button:
Other TH'ers' Best Finds page | Types of Metal Detecting Activities | Useful Articles page | Secrets for Beginners | Home