Truth About Metal Detecting and Treasure Hunting - All Info!
In-Depth Articles, Exclusive True Stories, How-To Tutorials, Metal Detector Reviews, Secrets and more - a Wealth of Information To Help You Find Treasures!
WELCOME to the unique website created by Sergei Upstateny (Sergei from Upstate New York) - an experienced international treasure hunter who is truly addicted to the Hobby of Metal Detecting and Treasure Hunting!
Whether you are new to the hobby of metal detecting or an experienced metaldetectorist, you might enjoy reading my informative In-Depth Articles on search and recovery techniques, treasure hunting methods, some popular metal detectors and customized search programs for them, and exclusive true stories on treasure hunting in different parts of the world.
Here you can learn everything about how to research for treasure, how to use a "detector de metal", how to detect on land or underwater, and get a ton of metal detecting secrets and useful tips on how to hunt for treasure - all information for FREE!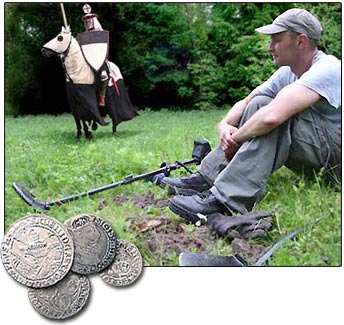 Many Benefits Of This Wonderful Hobby Of Metal Detecting
My purpose of creating and maintaining this web site is not only to be an ambassador of this great outdoor hobby, but also to introduce public to the hobby's many beneficial aspects: active lifestyle, excitement of discovery, learning of history through research and traveling, developing one's discipline and a strong character, meeting new people and making good friends, traveling to new places, and, most important, learning about your Self.
Learn Basics+ of Metal Detecting from My Articles
If you are a newcomer to this hobby, please start with my Detecting Secrets for Beginners - A Basic Guide To Successful Metal Detecting, which includes helpful info on selecting and buying a metal detector, types of metal detecting activities, program settings for metal detectors, basic equipment for successful treasure search, basic map research and other methods of acquiring a good leads, metal detecting techniques, How To tutorials, places to metal detect, and more.
My web site also has a section dedicated to the World War II and includes not only articles on WW2 history but also some info on WW2 military relic hunting which has been as popular as coin shooting.
Informative Sections on My Web Site
If you are looking for the right metal detector for yourself or your family member, or if you are just upgrading your treasure hunting equipment to the next level, visit My Metal Detectors section first. In this section, there are informative and useful articles about metal detectors that I used in the past and the ones I use now, the XP Deus - truly an amazing machine nowadays, is one of them.
If you are not sure which metal detector to buy, first visit my detailed Guide To Metal Detecting Activities. This guide will help you choose the right machine for your metal detecting tasks. Then read my article "How To Select and Purchase A Metal Detector". And then check out a huge Metal Detector Reviews Worldwide section. This section will provide you with helpful information - detector reviews and ratings, specifications, features, prices, and images of all metal detectors and treasure hunting tools that are available on the market today!
Search Coil Secrets and Detecting Techniques - A wealth of in-depth info including everything about search coils: their types and designs, sizes and their applications, advantages and disadvantages, pinpointing and detecting techniques, and many practical advices and useful tips.
A Complete Guide To Metal Detecting Research will help you master the most important part of the hobby and enable you to determine and locate potential treasure hunting sites in your area. There are many forms of research to choose from, and my guide will introduce you to the basic ones, with more focus given to map research and footwork.
Cleaning and Preservation of Coins is to help treasure hunters, collectors and everybody else with useful info on cleaning coins and relics.
In the US Coins section of Numismatic Corner, you will find basic numismatic information on the US coins, Spanish Silver Reales, US Tokens 1833-1900 and Canada Bank Tokens. If you cannot ID a coin in your collection, please e-mail me (E-Mail link and my e-mail address are below) its picture and a short description. I will try to ID it and let you know the results as soon as possible.
Have Fun and Excitement Through My Detailed Treasure Hunting Stories
You can learn a lot about cache hunting, coin shooting and relic hunting just from my treasure hunting stories in sections: Metal detecting in USA, Eastern Europe, and UK. A full list of my stories is presented on My Metal Detecting Stories index page.
My new articles and tutorials related to metal detectors and metal detecting are announced on the Recent Additions page (Visitors' Corner) which was created to help you easily access my new publications.
My Best Finds section contains a few short stories on some of my cool treasure hunting finds made in different parts of the world before 2009. Some of my great finds that have been made after 2009 are shown in my recent articles, tutorials and stories.
My Photo Galleries
In the Photo Galleries Directory you will find photo galleries of different categories including the off-topic ones, which comprise zillions of photographs taken during my metal detecting trips abroad.
Share Your Metal Detecting Experiences
I encourage all hobby enthusiasts to submit pictures of their best metal detecting finds to Other Treasure Hunters' Finds section. If you would like to have your own story, whether you have found a treasure - a treasure chest, or just coins, with photographs posted on my web site, you are more than welcome to do so by submitting your information (an E-mail button is at the page bottom). Field-test reports for any metal detector are welcomed as well!
Testimonials: What People Say About My Website Project
Here are a few examples out of many comments I have received from my visitors in recent years:
"Wonderful Website!" - from Hugh H. in Canandaigua, New York, USA, on May 15, 2017
"Dear Sergei,
Thank you for such a wonderful site! I am saving for a metal detector, and find that your site is the most comprehensive and useful site of all on the web. Your site was referenced as a useful link on another site, and I'm so glad that I clicked on it!"
"Superb Website!" - from Robert C. in New South Wales (Australia) on November 13, 2016:
"Hello Sergei,
I read quite a few pages on your superb website and WOW! It's been put together beautifully. I'm very new to detecting but have the confidence now to get out there and find interesting things, and have lots of fun in the Australian bush in New South Wales. Thank you most kindly for your website!"
"What a great site you've got!" - from James S. in Pennsylvania (USA) on June 3, 2013:
"Hi Sergei,
Just had to tell you what a great site you've got! Comprehensive and in-depth. I can't imagine how you manage doing that along with your hunting and your normal career. And all free too! I've seen some sites who are trying to sell the same information (i.e. "Inside secrets of the professionals, secrets they don't want you to know") and I would seriously doubt they would come close to what you are offering. I'm only about 3 months into this hobby and am of course just beginning to learn (Garrett ACE 250) but I've printed out several sections from your site for study. I'm sure they'll give my hunting efforts a great boost. One question out of curiosity, do you still feel the Minelab E-trac is your best overall detector? - [No, not any longer. It is XP Deus now. - S.]
"Your webside makes a huge difference!" - from Peter S. (USA) on April 16, 2012:
"Hey Sergie!
Your webside makes a huge difference! After I have browsed the web and visited many websites on metal detecting, I gotta tell you, I think your website is a valuable "keeper" in this "webfield" that is full of junk - websites that fill up their pages with multiple keywords but do not give any useful or in-depth information! They claim to be the most resourceful while posting a bunch of empty links and no photos of real finds! To me, it was upsetting to realize that there were no real treasure hunters behind those pages. Visiting your web page was like a breath of fresh air because you are a true treasure hunter and have done a great job sharing your experience and knowledge, inspiring others, and telling the truth! Thank you so much!!! You are the Man!"
"Thanks for the useful tips!" - from Adrian B. (UK) on October 4, 2011:
"Hi Sergei,
Your website is fantastic! It has inspired me to really start metal detecting more. I have always been fascinated.
The story of your silver coin hoard [the story is temporarily unavailable - S.] was about the most amazing thing I have ever read, my eyes nearly popped out of my head when I saw all the pictures, it must have been AMAZING :) Congratulations! You deserve that success because of the hard work.
Thanks for the useful tips on the website they are excellent to the beginner like me.
Best Regards!"
"Thank you for the best website!" - from Brian J. (USA) on February 7, 2010:
"Hi Serge!
I have to thank you for the best website I have seen on this hobby. I wish there were more sites like yours! Your idea on using old postcards gave me the information on the band stand in a park closed in the late 1800's. It is a small island, and I'm gonna search it in the spring when the weeds are down low.
Thanks again!"
"You have done an outstanding job!" - from Paul D. (USA) on September 22, 2009:
"Hi Sergie,
Went out today and found a 1944 wheat penny (whoopie) but it's a find. I would love to make it down to Poland, visit Auschwitz and a few other places.
My wife saw your web site and said, "what does he do for a living?" I said, "Does it matter? He sure is having fun." She was impressed too on the detail and how it all went together. You have done an outstanding job so keep up the great work.
I really loved reading about the "_ _ _" [here I had to omit the abbreviation of the WW2 military organization - S.] Isn't it interesting how so much evil can keep going after all those years. I haven't read everything on your site but I believe it's one of the best out there. Hope to have it all read soon, love the history part.
Glad you enjoyed the pictures hope to send you some of my finds soon. I will be planning and saving for the big trip next year.
Keep up the great web site and good hunting!"
Make a Donation
Please help me stay afloat, afford more metal detecting trips with field-tests and experiments to create more helpful articles and tutorials for detectorists, and maintain this website - the most informative hobby resource on the web! Since I do not have any steady income, your donation matters to me a lot! Thank you kindly!
Clicking on the donate button will take you to a donation page powered by Donorbox and dedicated to my website (MetalDetectingWorld.com). The donation page is PCI-compliant, secured by SSL/TLS, and has a simple form to fill out. Donorbox does not store any card or bank data. Credit card information is encrypted and tokenized by the Stripe payment processor.
Donate
By helping me keep this website alive and growing, you will sure help many detectorists around the world as well!
Happy Hunting!
If you do not like my web site or even hate it, take a look at my friend Victoria!
Contact Me
I am always optimizing my web site to make it better, and there is always a room for improvement! If you would like to point out any errors, ask me a question, express your opinion, suggest a new idea, or submit your story, please do not hesitate to send me a message!
Please help me promote my website:
If you would like to follow me on Twitter, please press a button:
Follow @metal_detect
If you have something to say about this website, please share it with me on my "Metal Detecting World" page available on Facebook, Google+, Twitter, Pinterest, Tumblr and Stumbleupon.
You can also find my personal profile on Google+, Facebook, Pinterest, LinkedIn, Tumblr, Reddit and Delicious.