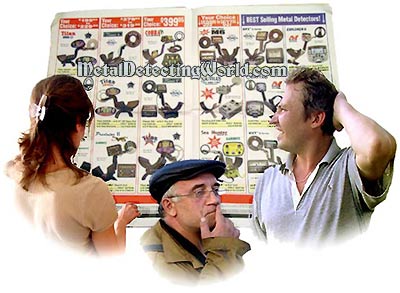 The most challenging part of the process, for both a beginner and sometimes an experienced brand-switcher, is to choose the right metal detector from dozens of new models appearing on the market continuously.
If you are considering to enter the hobby and buy your first metal detector, the process of making the right choice should be based on the following:
Your goals, needs and abilities
Amount of money you can invest into the hobby, including money to be spent for the necessary equipment (please see My Basic Equipment page) or accessories in addition to your metal detector.
Buying the right metal detector depends on your understanding of different types of technologies used in metal detectors, their designs, features and specifications as well as the modern types of search coils and their applications (see details in my Truth About Search Coils chapter). There are five basic technologies that has been incorporated into the electrical circuit designs of metal detectors.
BASIC TYPES OF METAL DETECTORS:
1) TR (Transmitter/Receiver) is the earliest technology based on Induction Balance (IB) principle of metal detection. TR detectors are able to tell the difference between a ferrous and nonferrous object, but do not have enough depth in highly mineralized ground. TR detectors are obsolete now.
2) BFO (Beat Frequency Oscillation) is another old technology based on Induction Balance (IB) principle. BFO metal detectors are the cheapest (under $100) and designed mainly as toy detectors for kids. Because the BFO technology is the easiest and cheapest to make, it has its limitations when compared to other types. For example, poor ability in distinguishing between different types of metals is one of them. BFO technology is also still used in cheap hand-held devices.
3) VLF (Very Low Frequency) metal detectors are the most common detectors and great for their ability in distinguishing between different types of metals. VLF detectors in the 4 khz range are the best in working the ground with high mineral content, and very sensitive to silver and copper targets, however they are not sensitive to gold. Metal detectors that are specially designed for electronic gold prospecting have frequencies ranging from 18kHz to 71kHz.
4) VLF/TR technology represents a combination of Very Low Frequency and Transmitter/Receiver technologies thus enabling the VLF/TR detectors to control trash and ground mineralization simultaneously.
5) PI (Pulse Induction) metal detectors can not discriminate between different types of metals - this makes their use on inland sites with high concentration of trash extremely difficult. PI detectors are the best to use in salt water or highly mineralized soils where other types have trouble working. Targets can be detected much deeper with PI technology than with other types.
There are other categories of metal detecting technologies that can include other categories or be combined with them: RF (Radio-Frequency or Two-box detectors), BBS (Broad Band Spectrum), FBS (Full Band Spectrum), FBS 2 (it combines Minelab's FBS technology with wireless coil-to-detector communications), and Off-Resonance. BBS and FBS technologies are used by Minelab metal detectors and have a great advantage over Single- and Dual-Frequency types of metal detectors.
One thing you should remember in order to purchase the right kind of metal detector: if one metal detector is quite popular these days and everybody is buying it, it does not mean you have to have it as well. The right way to arm yourself with the right metal detector is to know exactly your goals, abilities, and opportunities that are available in the area in which you reside.
The hobby of metal detecting include the following types of treasure hunting activities: coin shooting, relic hunting, cache hunting, dry sand and wet sand beach hunting (beach combing), shallow water and underwater metal detecting, gold nugget hunting/gold prospecting, and meteorite hunting - you can find a short description of each activity on my Types of Metal Detecting Activities page.
The manufacturers of metal detecting equipment produce various detectors that are specifically designed for all types of treasure hunting. Every year, the modern technology is rapidly producing new and improved instruments and tools for the hobby, thus allowing us to recover more finds from the sites previously thought as "hunted out".
When the metal detector entered the computer age, treasure hunting became simpler with a computerized "One-Touch", or "Turn-On-and-Go", type of metal detectors. I strongly recommend such an advanced detector, especially practical for a beginner, to all. The market offers a few computerized one-touch detectors at low cost.
Here is a little secret. Everybody is concerned about the detection depth of metal detectors. Believe it or not, all detectors in each class have the same depth potential, and it does not vary much between classes! A few metal detectors have an undoubted advantage over the rest of machines because these top-notch metal detectors are designed to provide 1) excellent separation of good targets from junk, 2) excellent recognition of targets, 3) correct Audio ID and display readings (Visual ID), and, of course, 4) a powerful microprocessor. And these four key features are effective only under the detector's excellent management of mineralized soils.
These factors should be your main concern because it would be much easier for you to learn your detector and have outstanding results if your metal detector "tells" you nothing but the truth. But you have to pay extra bucks for the most truthful machine and know how to fine-tune it.