Types of Metal Detecting Activities, page 4
RELIC HUNTING: General Information and Tips, Metal Detectors & Accessories Required
Relic hunting is about metal detecting all kinds of mostly iron artifacts and relics that may have a high historical, archaeological, collectible or even decorative/practical value; Colonial iron door hinges exemplifying the latter. Non-metallic relic finds, which get unearthed as the "by-products" during the process of target recovery and range from Neolithic axe heads to the 18th century clay pipes (mostly incomplete), are also highly sought by relic hunters.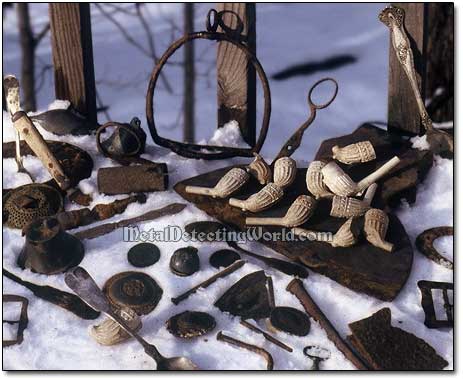 Relic hunting is very popular around the world and consists of many subcategories such as "Bronze Age," "Medieval Period," "Medieval Animal Style," "Early American Iron," "US Revolutionary War," "US War of 1812," "US Civil War," "World War I" and "World War II" just to name the major ones.
Each of these categories deserves its own web site for a full presentation, and there are many web sites dedicated to metal detecting relics on the internet. Nevertheless I included general information on the WW2 military relic hunting on the following pages because this activity has become very popular in Europe.
In its essence, relic hunting is more effort- and time-consuming than just general metal detecting because relic hunting usually takes place in the remote areas located in dense woods, swamps, mountains or abandoned fields overgrown with vegetation. Various types of relic hunting sites may range from the sites of ancient settlements to the sites of the WW2 battlefields and front lines.
Relic Hunting on Steep Hillside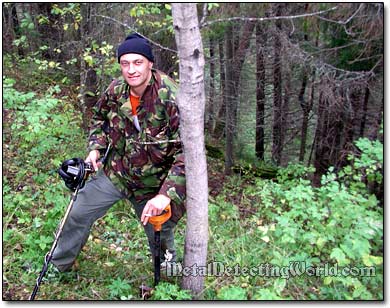 If IRON Relic Hunting is your "cup of tea", you should know how to clean and preserve iron relics and artifacts. The best method for cleaning rust off the iron relics is Electrolysis, and you can learn all about it in my tutorial - Removing Rust from Iron Artifacts with Electrolysis - the most detailed and illustrated 150-picture tutorial on the web!
Electrolytically Cleaned Contents of Artifact Cache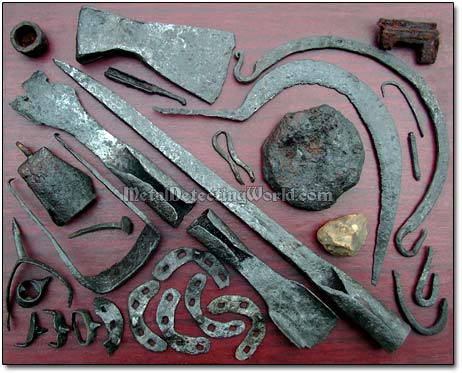 Number of pages: < Previous | 1 | 2 | 3 | 4 | 5 | 6 | 7 | 8 | 9 | 10 | 11 | 12 | 13 | 14 | 15 |

| 16 | 17 | 18 | 19 | 20 | 21 | 22 | 23 | 24 | 25 | 26 | 27 | 28 | 29 | 30 | 31 | 32 | 33 | 34 | 35 | 36 | 37 | 38 | 39 | Next >