Types of Metal Detecting Activities, page 16:
BEACH HUNTING
(CONTINUED from previous page)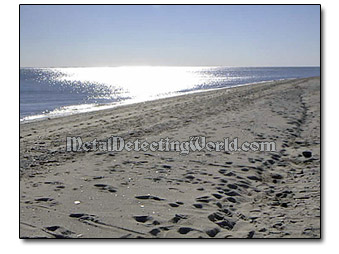 Hunting ocean or sea beaches is more difficult than detecting freshwater beaches because of iron magnetite (black sand) and salt minerals - so called "salt pockets" - clusters of concentrated sea salt, that are plentiful especially in wet sand.
If not a proper metal detector is used, iron and salt mineralization will cause numerous false signals and make this metal detector useless, especially on wet sand and in water.
Because of the differences between searching methods, metal detectors and equipment used for finding lost valuables deposited either on the dry beach or in surf, beach hunting is subdivided into two major types: Dry Sand Detecting & Wet Sand and Shallow Surf Hunting. The deep surf wading is described on the Underwater Metal Detecting page (coming soon).
All types of beach hunting often overlap. For instance, a beach hunter with a wading (waterproof) metal detector may venture into the shallow surf to search for more jewelry, and a scuba diver with an amphibious metal detector may switch to the dry beach for fun.
BEACH HUNTING ON DRY SAND
As long as your metal detector can maintain a proper balancing of salt pockets and black sand without giving you false signals, you might find gold jewelry and coins anywhere on dry portions of the beach. But you should pay close attention to a few productive areas:
1) The "blanket zone" - a line parallel to the water, where people put their chairs and lay their beach blankets out. The blanket zone is usually close to the high-tide line (mark) where a lot of jewelry items and coins get dropped.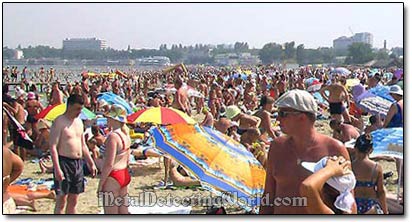 2) Dressing sheds often have sandy floors or a lot of sand inside them, and when the clothes are changed, losing something valuable can go unnoticed by the owner.
3) Game areas where people play beach volleyball, soccer, badminton and throw frisbees.
4) The area spreading out from the beach entrance, where there is a steady traffic of people and kids running with money to and from the concession stands.
5) Areas around concession stands or booths, snack bars, walkways, and grass areas.
6) Parking lot area where people park their cars on sand or grass particularly should be searched after the cars have been gone at the end of the day. Moreover, the evening hours provide a much cooler and enjoyable detecting time. It should be noted that this portion of the beach is not replenished by the ocean; however, many small personal items including gold jewelry are lost in parking lots when people are dropping valuables out of their pockets and beach bags while looking for the car keys.
7) Depending on configuration and geo-physical relief of the beach, there might be another potential area for search - the sandy wall of the coastline and a strip of sand running at the base of it. The coast line is the edge of land that is adjacent to the beach. This land may be 1 meter (or more) high above the beach level and covered with grass.
Shore Profile Diagram Showing a Coastline

During the powerful winter storms, this natural beach boundary is eroded by waves and gales. They expose a new sand "wall" of the coastline during the storm. Some old jewelry and silver coins are exposed in the upper portion of it while a larger amount of them falls down along with sand and gets mixed up with the debris.
Beach Hunting along the Coastline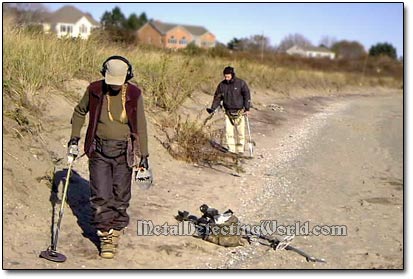 CONTINUED ON NEXT PAGE...
Number of pages: < Previous | 1 | 2 | 3 | 4 | 5 | 6 | 7 | 8 | 9 | 10 | 11 | 12 | 13 | 14 | 15 |

| 16 | 17 | 18 | 19 | 20 | 21 | 22 | 23 | 24 | 25 | 26 | 27 | 28 | 29 | 30 | 31 | 32 | 33 | 34 | 35 | 36 | 37 | 38 | 39 | Next >