Numismatic Corner
Basic Numismatic Information on US and Foreign Coins: Photos, Specifications, Mintage Records, Coin Values and Mint Marks
If you would like to recommend this web page to everyone, please click the button:
This section provides basic numismatic info, such as photographs, specifics, mintage records and brief historical facts, on coins in the categories listed below. Here you will also find coin values for the US key-date coins in undug condition, and descriptions for the US mint mark abbreviations.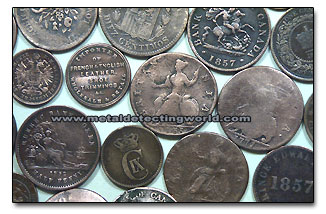 Coin values are listed for the lowest grade, AG-3 (About Good), or G-4 (Good) or VG-8 (Very Good) - whichever is available, and EF-40 (Extremely Fine) grade of the key-date coins. Average coin values are listed for the common dates in the same manner.
If the EF-40 grade is not available, the value of the next highest grade of the American Numismatic Association grading system will be shown. The coin market is so active in some categories that values are constantly changing. The current coin values might be higher than the values shown here.
As a guide, this section is intended to help you identify your coin find, and determine whether it is valuable or not. One should keep in mind that damaged coins, such as those that are unearthed, bent, corroded, scratched, holed, nicked, stained, or mutilated, are worth less than those without defects.
My intention is to provide an accessible and useful source of information to the hobby enthusiasts, beginner coin collectors and just those who happened to have an old coin in their hands. I am planning to expand this section by including other categories of coins that are commonly found in different parts of the world.
If you have any interesting numismatic information on certain type of coins or a rare coin catalog in digital form, and you would like it to be included in this section, please do not hesitate to share and e-mail all necessary files and photos - it will be beneficial to many of us!
US Coins page:
Large Cents
Small Cents
2-Cent and 3-Cent Pieces
Nickel Five-Cent Pieces
Half Dimes
Dimes
Quarters
Half-Dollars
Dollars
US Gold Coins

Spanish Silver Reales

Russian Wire Money Coins Section:
Brief Information on Hammered Wire Coins
Brief History of Russian Medieval Wire Money
Photo Gallery of Russian Wire Money - See the exact cyrillic letters inscribed in the wire coin legends and read the detailed descriptions of the wire coins' obverses and reverses;
Cyrillic Numeral Dates on Russian Coins of Peter I The Great - Tutorial for coin collectors and beginners;

US Tokens 1833-1900
Canada Bank Tokens
US and Foreign Tokens Photo Gallery

Photo Galleries of Coins
Guide to Cleaning & Preservation of Coins
USA MINTS and MINT MARKS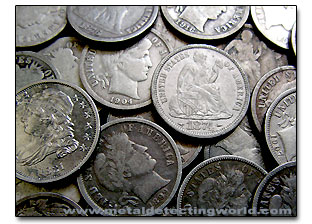 Mint marks are small letters designating where coins were made. Mint mark position is on the reverse of nearly all US coins prior to 1965 (the cent is an exception), and on the obverse after 1967. Letters used are as follows:
C - Charlotte, North Carolina (gold coins only). 1838-1861.
CC - Carson City, Nevada. 1870-1893.
D - Denver, Colorado. 1906 to date.
D - Dahlonega, Georgia (gold coins only). 1838-1861.
O - New Orleans, Louisiana. 1838-1909.
P - Philadelphia, Pennsylvania. 1793 to date.
S - San Francisco, California. 1854 to date.
W - West Point, New York. 1984 to date.
The mint mark "M" was used on coins made in Manila for the Philippines 1925-1941
If you would like to recommend this web page to everyone, please click the button:
Coin Photo Galleries page | Detect Hammered Coins - Index page | Useful Articles page | Secrets for Beginners | My Finds Page

MetalDetectingWorld Home
Sources: Encyclopedia Of U.S. Coins by Mort Reed and The Official Red Book of United States Coins by R.S. Yeoman.