Coin Photo Galleries
US Coins, World Coins, Soviet & Russian Coins Found with Metal Detector
The following photo galleries show some of my coin finds that I recovered with metal detector in different parts of the world. A few coins shown in the World Coins photo gallery represent some European, East European, and Asian countries to which I have not travelled yet but managed to unearth their coins. Because of the trade, commerce, and other social events that took place in history, the coins travelled across the borders and wound up at different locations to be found with metal detectors later.
Similar cases in the US include recoveries of Spanish Reals, British Coppers (mostly in the North-East), and Chineese coins, their images can be seen in the World Coins photogallery.
The Chineese coins ended up in the US in big quantities in mid-1800s. The explanation for this is very simple. The American merchants started importing the woven baskets from Cnina around that time. The center-holed coins were attached to the baskets for decoration.
US Copper Coins

US Silver Coins

Wire Money circa 16th Century

Coins of Russian Empire (1703-1921)

Soviet Coins

World Coins (16th-20th Centuries)


Coins Recovered in Upstate New York in One Summer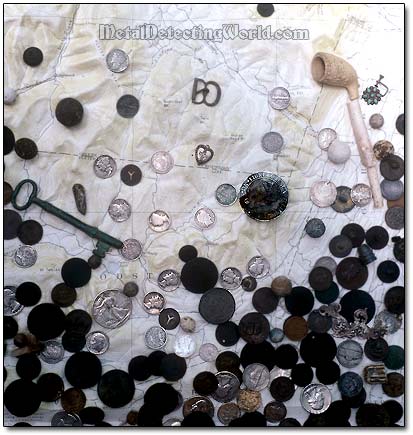 If you would like to obtain coin values and numismatic information on American coinage, please visit USA Coins page in the Numismatic Corner section.
If you need help with identifying a Russian coin in your collection, please feel free to e-mail me its picture. I will be able to give you a correct coin ID as I have a few hard-to-find coin catalogs at hand.
If you would like to recommend this web page to everyone, please click the button:
Numismatic Corner | US Coins page | MetalDetectingWorld Home