Truth about Search Coils for Metal Detectors, page 1
Search Coil Type and Size Applications, Search Techniques, Secrets & Tips
Introduction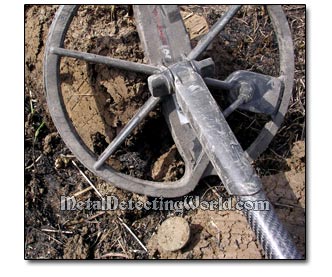 There are a few key factors in being a successful treasure hunter. An advanced metal detector (detector de metal), well-done resultant research and sufficient digging tools make a big difference but would be useless if you do not utilize a proper searchcoil for your metaldetecting tasks or do not use it right.
Besides knowing all nuances of your detector's functions and features, you should be competent in search coil designs and their capabilities, advantages and disadvantages if you want to be successful. Your competence will help you choose the right coil for each of various metal detecting conditions that may occur, and adjust settings on your detector accordingly.
A search coil is your "eyes" underground, and you should know how to keep your "vision" clear under any circumstances.
However, just knowing the search coils' characteristics and knowing which coil to use in any case would not be enough for successful metal detecting if you do not 1) master an efficient coil swinging and target pinpointing techniques by practicing and experimenting, and 2) maintain search coil discipline.
I hope this section will provide you with all necessary information and help you be proficient in using different types of search coils designed for your metal detector.
TABLE OF CONTENTS:

1) Introduction - page 1

2) Types of Search Coils: Designs & Characteristics - page 2

3) Sizes of Search Coils & Their Applications - page 5

4) Searchcoil Discipline in Details:

• Proper Angle of Coil - page 6

• Sweeping Coil Parallel to Ground Surface - page 7

• Keeping Coil Close to Ground - page 7

• No Pendulum Coil Swinging - page 7

• Sweep Overlap - page 8

• Sweep Overlap with Double-D Coil - page 11

• Slow & Methodical Coil Swinging - page 12

• No Coil Banging Against Obstacles - page 12

5) Search Coil Pinpointing & Detecting Techniques:

• Pinpointing Targets: General Info - page 13

• Pinpointing Techniques for Concentric & Double-D Coils - page 14

• Pinpointing Angled Coins - page 15

• Pinpointing Coins On Edge - page 16

• Pinpointing Coins Next To Trash - page 17

• Masked Targets Detecting Technique - page 18

• Questionable Target Identification Techniques - page 19

6) Coil Cover Hermetical Sealing - page 20
Number of pages: | 1 | 2 | 3 | 4 | 5 | 6 | 7 | 8 | 9 | 10 | 11 | 12 | 13 | 14 | 15 | 16 | 17 | 18 | 19 | 20 | Next >
Useful Articles page | Secrets for Beginners | MetalDetectingWorld Home