Search Coils for Metal Detectors, page 11
Search Coil Swinging Discipline in Details
(...CONTINUED from previous page)
Sweep Overlapping with Double-D Wide Scan Search Coils
Due to the 2D coil's advanced design and characteristic shape of detection pattern (wider, narrower and deeper penetrating - see details on page 3), overlapping with Double-D search coils is not as vital for the process as with concentric coils. As shown in illustration below, even if you do not overlap each coil sweep, you can still cover more ground in one sweep with the 2D search coil than with any concentric coil.
Sweeping Double-D Search Coil without Overlapping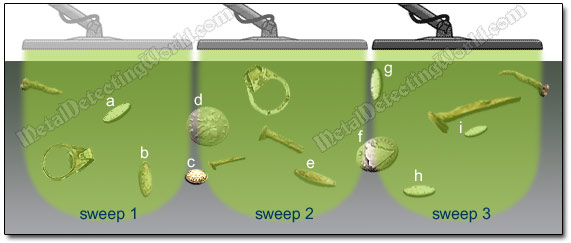 If a dime is buried 7-8 inches deep, it would not be missed by the effective detection area of the Double-D 8" coil even with only 25% overlap. The 2D coil's effective detection area would be elongated and narrow as shown on illustration below (the dime is not up to scale and should be half the size in the picture).
Double-D Coil's Effective Detection Area for Coin-Sized Targets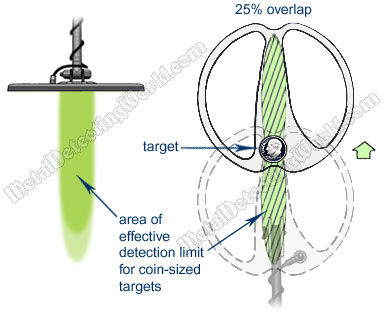 With just 25% overlapping, the electromagnetic field detection pattern of 2D search coil fully covers the ground and captures all targets situated within the detector's operational depth range as shown below.
Sweeping Double-D Search Coil with 25% Overlapping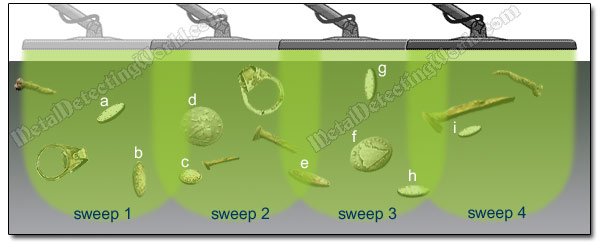 It is important to know that all detection patterns may change shape depending on search coil configuration, target size, shape, composition (iron objects' effect on detection pattern is described on page 19), and ground mineral intensity. However, the amount of recovered targets totally depends on detectorist's skills, perseverance and enthusiasm as well as search and recovery techniques used. Simple and effective measures can be taken to make sure most of valuable targets are recovered at each metal detecting site (to refresh your memory, please go back to page 8).
Number of pages: < Previous | 1 | 2 | 3 | 4 | 5 | 6 | 7 | 8 | 9 | 10 | 11 | 12 | 13 | 14 | 15 | 16 | 17 | 18 | 19 | 20 | Next >