A Complete Guide to Metal Detecting Activities, page 1
Descriptions, Info, Tips, and Accessories & Metal Detectors Required for Each Activity
Here you can find the short descriptions of metal detecting activities and types of metal detectors required for each activity. This information is to help you find "your cup of tea" in this hobby. Your making the right choice should depend on geographical, topographical and historical specifics of the area you live in.
If you would like to recommend this MD'ing Guide to everyone, please click the button: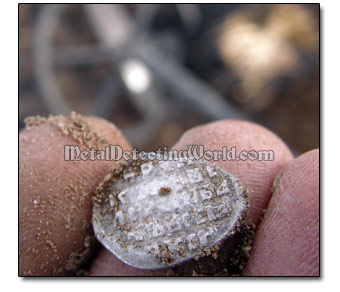 TABLE OF CONTENTS:
1) General Metal Detecting - page 1
1) GENERAL METAL DETECTING
General metal detecting evolves around searching for coins, buttons, jewelry, personal items and small to medium size iron relics (small household items, fragments of tools and weapons with developed Halo Effect) - all the common finds, which can be recovered at the sites of homesteads, parks, fields, ghost towns, etc. You can find the list of all locations for general metal detecting here.
Basic metal detecting and target recovery techniques are usually explained in the instruction manuals for metal detectors. You can find more information and tips on metal detecting in my "How To Metal Detect" and "Target Pinpointing Techniques" sections as well as in many other sections of this web site.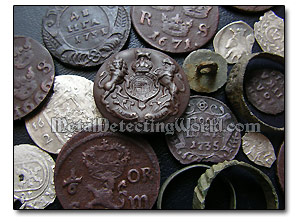 Types of Metal Detectors Required:
Any conventional VLF/TR land metal detector will do the job. Of course, the more expensive a metal detector you use, the higher the variety of finds you may unearth.
The most expensive metal detectors are usually of the "Turn-On-and-Go" type, i.e., besides other advanced features, they have Automatic Ground Balance, Auto Tune and Semi-Automatic Sensitivity.
These convenient and time-saving features allow you to metal detect without frequent manual ground balancing (optimal reduction of interference that comes from the ground mineralization) of your detector, dealing with "hot rocks," and struggling with false signals when the soil's mineral content is high.
Necessary Detector's Features, Equipment & Accessories:
• Discrimination control is a must

• Automatic or Manual Ground Balance, or both (ideal case)

• Round DD (Double D) search coils 8 to 9 inches in diameter, elliptical search coils of medium size are preferable. Search coils of different sizes should be used according to your search techniques and/or metal detecting conditions: smaller coils - for metal detecting sites with a high concentration of trash, larger coils - for sites with low junk concentration. To learn about search coils of different types and sizes, their advantages and disadvantages, applications and secrets, visit my "Search Coils Secrets & Tips" page.

• Headphones are required for being able to hear deep "tiny" signals, and not to attract attention of passerby's or annoy them.

• Digging Tools may range from plastic trowels to full-size treasure hunting shovels made of special steel.

• Hand-Held Electronic Probes/Pinpointers are very helpful in fast locating of detected objects inside the dug holes during recovery in sandy or extremely dry soil. You may want to visit "Electronic Pinpointers Reviews" page to look at different brands. Sometimes it is impossible to keep the dirt plug intact and use the Plug-Splitting Technique if the ground is not moist.

• 3-Compartment Pouch is used to keep your "keeper" finds - coins, buttons, relics and junk separately. The pouch should be waterproof to prevent soiling your clothes and sturdy enough to hold plenty of weight. No trash should be left behind!

• Kneepads (at least one) are recommended.

• Sturdy Light Gloves will protect your hands from accidental cutting by broken glass, sharp fragments of rusty sheet iron, rusty nails, etc.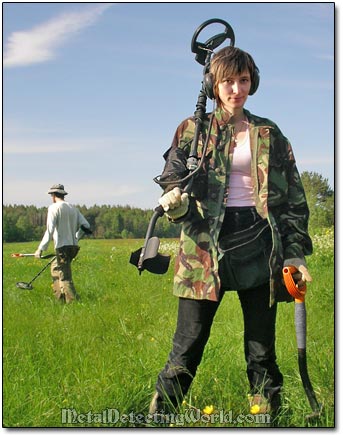 If you would like to recommend this MD'ing Guide to everyone, please click the button:
If you would like to read my stories in relation to general metal detecting in different parts of the world, please visit My Metal Detecting Stories page.
Number of pages: | 1 | 2 | 3 | 4 | 5 | 6 | 7 | 8 | 9 | 10 | 11 | 12 | 13 | 14 | 15 |

| 16 | 17 | 18 | 19 | 20 | 21 | 22 | 23 | 24 | 25 | 26 | 27 | 28 | 29 | 30 | 31 | 32 | 33 | 34 | 35 | 36 | 37 | 38 | 39 | Next >
My Equipment Page | Secrets for Beginners | Useful Articles on Metal Detecting | MetalDetectingWorld Home