Reviews for Electronic Probes, Pinpointers & Mini Metal Detectors
Compare Real-User Reviews for Electronic Probes & Pinpointers + Their Features, Specifications, Prices & Images
Created by Sergei Upstateny on ;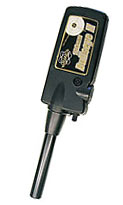 Electronic Probes are designed to reduce recovery time of detected targets and, therefore, minimize unnecessary digging. Electronic probes/pinpointers/mini metal detectors come in two types: Hand-Held and Detector-Mounted (inline probes).
Hand-Held Electronic probes are very helpful in finding coins during recovery in sandy or extremely dry soil since it is impossible to keep the dirt plug intact and use the Plug-Splitting Technique if the ground is not moist.
If you would like to know more about electronic pinpointers and learn how to use them with maximum efficiency, you may want to read my article - "Electronic Probes and Pinpointers". The article includes a few practical operational tips.
Below is a full list of all electronic probes, pinpointers and mini metal detectors available on the market. Here you will be able to read Reviews and Ratings from real users, compare Features, Specifications and Prices of devices, and see their Images - all information to help you choose the right instrument for yourself.
Please do not hesitate to contribute by leaving a review if you have already used any probe listed here. Your opinion is of a great value to all hobby enthusiasts!
Plus, this is a great opportunity for you to let the manufacturer know what improvements should be made to ensure the most effective operation. All manufacturers read these reviews regularly!
If you do not find the name(s) of certain electronic probe(s) or pinpointer(s) available for review, and you would like it to be listed in a table below, please do not hesitate to submit its name:
REVIEWS for Electronic Probes & Pinpointers:
Find me on Google+ and my Google+ Page: "Metal Detecting World"