2-Box Metal Detector Reviews
Real Users Reviews and Ratings + Detector Prices, Features, Specifications and Images
Created by Sergei Upstateny on ; last time modified: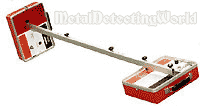 Regular VLF metal detectors with Transmit/Receive Searchcoils are limited in depth and are restricted to a scan area no larger than their searchcoils. The VLF 2-Box units can provide a wider detection field.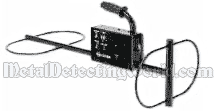 Page Contents:
Introduction
Unlike a searchcoil of the conventional detector, the transmitter and receiver rectangular coils of a 2-box metal detector are separated from each other, thereby widening and deepening the detection field so that more information about a detected target can be retrieved and processed. The transmitter coil is at the front and mounted at right angles to the receiver coil at the back so that it would not pick up signals directly from the transmitter coil. This is an old consept that was invented and patented by Gerhard Fischer in 1937.
Such a configuration of search coils allows the 2-Box metal detector to detect the medium- and large-sized objects in the low-mineralized ground, the large-sized objects in the moderately mineralized ground and the very large, deeply buried objects in the highly mineralized ground. As the 2-box detector is supposed to ignore targets that are smaller than a soda can, it may be useful in areas with a lot of relatively small trash.
The 2-Box units are no doubt aimed at cache and coin horde hunters and gold prospectors because the two box detectors are claimed to be "effective for finding coin hoards, money caches, gold veins, etc. that are beyond the Operating Depth Range of a standard VLF detector operated with an all-around search coil." Well...
In reality, if one wants to utilize the 2-Box unit to find a coin cache placed inside a METAL CONTAINER and buried deeper than 1 meter (3.5 feet), this container must be larger than a regular mailbox or a 1-gallon gas can, provided that the ground mineralization is LOW. If the ground mineralization level is moderate, any Two-Box detector begins to fail detecting the mailbox-sized object deeper than 3.5 feet because the 2-Box unit or attachment is a single-frequency VLF detector and, therefore, just like any VLF machine, is susceptible to the mineralization's target-masking effects. Sporadic mineralization (man-made) worsens it even more by making the 2-Box units or attachments totally unstable in addition to considerable loss in Depth Penetration. Heavy mineralization renders the 2-Box units and attachments useless. This is a major drawback of the VLF "deep seekers".
The main reason for that is the "widened and deepened" detection field of the 2-box detector, which, in fact, equals to the detection field of what could be a HUGE search coil of 3-4 FEET (!) in diameter; thus, "grabbing" interference from a bucket-volume of mineralization in detected ground! This is why the 2-Box users usually fail to stabilize their units for comfortable detection, and to achieve decent depth penetration at the hunt sites containing the moderate-to-high levels of mineralization. For example, the Garrett add on - "TreasureHound EagleEye Depth Multiplier", would sound off as the user walks if it is not absolutely leveled to the ground at all times, and the detector is not attuned to the current level of high mineralization.
If any metal container of the mailbox size is buried not deeper than 0.8-1 meter, it can be easily detected with large conventional search coils, such as round coils of 12.5 - 18 inches in diameter or elliptical coils (11 x 13 inches and larger). If an UNCONTAINED (and unconfirmed) coin hoard of the mailbox size is buried deeper than 0.85 m (2.8 feet), both the VLF detector with large round coils and the 2-Box detector/attachment most likely will not indicate such a cache by a "diggable" signal. If the coin hoard is smaller than a gallon can, the 2-Box detector/attachment will indicate it as ferrous junk or will not indicate it at all.
Since the general rule for the 2-Box detectors/attachments is that "the bigger an object, the deeper it is detected", the 2-Box detectors are capable of detecting big treasure chests, safes and large metal boxes stuffed with money, and ore veins down to five feet deep (1.5m). However, such "big treasures" are extremely rare. This is why the 2-Box detectors are used mostly by WWI and WWII relic hunters searching for the large, non-ferrous and ferrous objects usually buried at moderate depths in the former battlefields. However, for the deeply buried remains of large weapons (e.g. light field cannons) and machinery, the military relic hunters utilize either magnetometers (they detect only ferromagnetic objects buried at great depths; hence, the name MAGNETometer (magnetometers are listed in "Treasure Hunting Systems" section)) or expensive Pulse Induction (PI) deep seeking metal detectors with 1 x 1m and/or 2 x 2m search coils.
The 2-Box units can be effectively used by public utility and construction workers to locate underground pipes, cables, sewer tanks, voids/spaces, caverns, old wells, tunnels, etc. However, if the construction and utility employees need to locate mostly the ferrous objects, they instead use the magnetometers as well.
If you are excited about cache hunting and searching for treasures that were purposely buried and hidden rather than accidently lost or misplaced, you need to figure out which deep-searching machine, whether it is a VLF two-box unit or a PI deep seeking metal detector, is suitable for your tasks and metal detecting conditions. Please keep in mind that any deep seeking detector is not an every day machine, but rather a specialist instrument. If there is a real need for the 2-Box unit, maybe your local metal detecting club could buy one for the use by members.
If you have made your choice of the 2-Box deep seeker but are not sure how to proceed further, you may want to read my article on How To Select and Buy A Metal Detector and learn what to do before buying the machine.
Below is a full list of all 2-Box Metal Detectors available on the market today. Here you will be able to read Reviews and Ratings by real users, compare Features, Specifications and Prices of the 2-box metal detectors, and see their Images - all information to help you choose the right 2-box metal detector for your treasure hutning projects.
Please do not hesitate to contribute by leaving a review if you have already used any detector listed here. Your opinion is of a great value to everybody, both the beginners and seasoned treasure hunters! Plus, this is a great opportunity for you to let the manufacturer of your 2-box metal detector know what improvements should be made to ensure the most effective search. All metal detector manufacturers read these reviews regularly!
If you do not find the name(s) of certain metal detector(s) available for review, and you would like it to be listed in a table below, please do not hesitate to submit its name:
If you would like to visit any particular metal detector manufacturer's website, you can find its link on my link page - "Websites of All Manufacturers of Metal Detectors Worldwide".
MY ADVISE: If you do not find the manufacturer's name on that page, it means that I could not find any reliable information on that manufacturer and its products, or the manufacturer is known for producing either gimmicks based on outdated technology or feeble semblances of well-reputated metal detectors, or its metal detectors are poorly built from cheap materials in Southeast Asia or Eastern Europe. Or the manufacturer simply ceased production. If you are still in doubt, try to do your own research, but you better stick with the well known, tested, proven and trusted name brands!
2-Box Metal Detectors and Attachments:
Make a Donation
Please help me stay afloat, create more helpful sections, articles and tutorials for detectorists, and maintain this website - the most informative hobby resource on the web! Since I do not have any steady income, your donation matters to me a lot! Thank you kindly!
Clicking on the donate button will take you to a donation page powered by Donorbox and dedicated to my website (www.MetalDetectingWorld.com). The donation page is PCI-compliant, secured by SSL/TLS, and has a simple form to fill out. Donorbox does not store any card or bank data. Credit card information is encrypted and tokenized by the Stripe payment processor.
Donate
By helping me keep this website alive and growing, you will sure help many detectorists around the world as well!
Please help me promote this section:
If you would like to follow me on Twitter, please press a button:
Follow @metal_detect
If you have something to say about this section, please share it with me on my "Metal Detecting World" page available on Facebook, Google+, Twitter, Pinterest, Tumblr and Stumbleupon.
You can also find my personal profile on Google+, Facebook, Pinterest, LinkedIn, Tumblr, Reddit and Delicious.