2-Box Metal Detector Reviews
Real Users Reviews & Ratings + Detector Prices, Features, Specifications & Images
Created by Sergei Upstateny on ;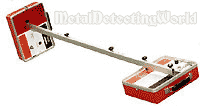 Standard metal detectors with Transmit/Receive Searchcoils are limited in depth and are restricted to a scan area no larger than their searchcoils. A 2-Box Metal Detector is designed to detect large and deeply buried targets, such as money caches, relics, treasure chests, safes, coin hoards, metal boxes, large metal objects and ore veins, down to five feet deep.
The 2-box detectors have been also used by public utility employees to find buried cables, pipes, voids/spaces, caverns, old wells and tunnels.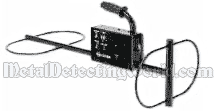 Unlike a regular searchcoil, the transmitter and receiver of the 2-box metal detector are separated from each other, thereby widening and deepening the detection field so that more information about a detected target can be retrieved and processed. Because it ignores the targets that are smaller than a soda can, the 2-box deep searcher is especially useful in areas with a lot of trash.
If you are excited about cache hunting and searching for treasures that were purposely buried and hidden rather than accidently lost or misplaced, you need a two box deep searcher to find the deeper caches and hidden hoards that standart single-coil detectors simply cannot find.
If you have made your choice of a gold nugget/prospecting metal detector but are not sure how to proceed further, you may want to read my article on "How To Select and Buy A Metal Detector" and learn what to do before buying the machine.
Below is a full list of all 2-Box Metal Detectors available on the market today. Here you will be able to read Reviews and Ratings from real users, compare Features, Specifications and Prices of the 2-box metal detectors, and see their Images - all information to help you choose the right 2-box metal detector for your treasure hutning projects.
Please do not hesitate to contribute by leaving a review if you have already used any detector listed here. Your opinion is of a great value to everybody, both the beginners and seasoned treasure hunters! Plus, this is a great opportunity for you to let the manufacturer of your 2-box metal detector know what improvements should be made to ensure the most effective search. All metal detector manufacturers read these reviews regularly!
If you do not find the name(s) of certain metal detector(s) available for review, and you would like it to be listed in a table below, please do not hesitate to submit its name:
If you would like to visit any particular metal detector manufacturer's website, you can find its link on my link page - "Websites of All Manufacturers of Metal Detectors Worldwide".
MY ADVISE: If you do not find the manufacturer's name on that page, it means that I could not find any reliable information on that manufacturer and its products, or the manufacturer is known for producing either gimmicks based on outdated technology or feeble semblances of well-reputated metal detectors, or its metal detectors are poorly built from cheap materials in Southeast Asia or Eastern Europe. Or the manufacturer simply ceased production. If you are still in doubt, try to do your own research, but you better stick with the well known, tested, proven and trusted name brands!
REVIEWS for 2-Box Metal Detectors:
Find me on Google+ and my Google+ Page: "Metal Detecting World"