Reviews for Treasure Hunting Shovels and Digging Tools
Compare Reviews and Ratings from Real Users + Features, Specifications, Prices & Images
Created by Sergei Upstateny on ;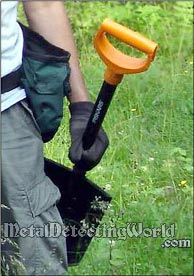 Many types of treasure hunting shovels and digging tools can be used for retrieving various buried targets. Below is a list of the basic types ofdigging tools for metal detecting available on the market today. Here you will be able to compare their Specifications, Prices and Images, users' Reviews and Ratings - all information to help you choose the right tool.
Please do not hesitate to leave a review if you have already used any item listed here. Your opinion is of a great value to all!
If you do not find the name(s) of certain metal detector(s) available for review, and you would like it to be listed in a table below, please do not hesitate to submit its name:
REVIEWS for Treasure Hunting Shovels and Digging Tools:
Find me on Google+ and my Google+ Page: "Metal Detecting World"