Headphones for Metal Detecting
Real User Reviews for Headphones Used for Metal Detecting & Treasure Hunting + Headphones Features, Specifications, Prices & Images
Created by Sergei Upstateny on ;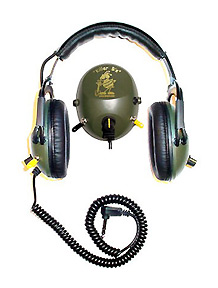 It is known that there is no serious treasure hunting without use of headphones. Using headphones makes the difference between detectorists who find targets on the surface and treasure hunters who recover deeper, more valuable coins and relics. The older treasures are usually buried deeper and produce a weak signal due to their depth. Combined with the ambient noise, such as traffic, beach surf, and nature, it can be almost impossible to hear the deepest treasures without high-quality headphones.
Headphones, whether they are wireless or not, should be treated as an extention of your metal detector and should not be taken for granted when it comes to understanding your detector's nuances. Different brands of headphones have their own audio characteristics and features so it is essential that you should "try before you buy."
When buying a set of headphones, use a simple rule: "The best headphones are the ones that allow you to forget they are on your head!" The market offers various designs of headphones to be used in gold prospecting, underwater treasure hunting and conventional metal detecting. In all cases, the following features provide maximum comfort and practicality: individual volume adjustment for each phone with stereo/mono switch, cordless or wireless connection to a metal detector, full earcup design, lightweight, collapsible design for portability, ambient noise reduction, signal amplification, waterproof mylar cone design, etc.
If you would like to metal detect without being hampered by the headphone cable connected to your metal detector, please visit my tutorial on "How To Make Headphone Operation Wireless". You may want to consider the wireless headphone operation seriously because it increases your overall efficiency during the process and saves lots of time.
Below is a list of the headphones for metal detecting available on the market today. Here you will be able to compare headphones' Features, Specifications and Prices, read users' Ratings and Opinions, and see the headphones' Images - all information to help you choose the right unit for your treasure hunting projects.
Please do not hesitate to contribute by leaving a review if you have already used any headphones listed here. Your opinion is of a great value to all metal detectorists! Plus, this is a great opportunity for you to let the manufacturer know what improvements should be made to ensure the most effective search. All headphones' manufacturers read these reviews regularly!
If you do not find the name(s) of certain metal detector(s) or treasure hunting instrument available for review, and you would like it to be listed in a table below, please do not hesitate to submit its name:
REVIEWS for Headphones Used for Metal Detecting:
Basic Types of Headphones for Metal Detecting and Treasure Hunting:
1. Lightweight Headphones Commonly Used with Portable CD Players, iPods, etc.
These phones do not block out ambient or outside noise such as automobile traffic or ocean surf. They are excellent if you live in a very hot and humid climate or search areas inhabited by poisonous reptiles. The wiring on lightweight headphones is not designed to be subjected to use in thick underbrush or vegetation and branches. One will need a 1/8" stereo to 1/4" stereo (or mono) adapter to use this type of headphones with a metal detector which usually contains a 1/4" audio jack.
2. Full Earcup Headphones with a Flexible Coiled Cord or Wireless
The earcups should have soft cushions that seal the earcups to your head and surround your earlobe without pinching or compressing it. Padding covering the crossover frame is another attribute toward operator comfort. Headphones with a stereo/mono switch and individual volume controls would be advantageous in most cases.
Wireless or cordless headphones have been rightfully expanding their spot on the market as they are becoming extremely popular. Some advanced units of wireless headphones are equipped with individual batteries and control pads that allow the operator to change the metal detector's settings "on the go". The "standard package" of some metal detectors includes a set of wireless headphones. You will find more info on the wireless headphones on my page - "Headphones I Use for Metal Detecting".
3. Waterproof Headphones
They are similar in design to the land types but usually contain loudspeakers having a waterproof cone material such as Mylar. Mylar cones are more durable than paper cones and resist mildew and moisture. These phones can be mounted to the detector either through a waterproof connector or hardwired (they can not be disconnected). Some waterproof styles incorporate piezo sound transducers. Waterproof headphones can sometimes have a shrill tone that usually cannot be regulated to operator preference.
Find me on Google+ and my Google+ Page: "Metal Detecting World"