Metal Detecting Sites for Treasure Hunting
70 Metal Detecting Locations That Can Get You Started and Will Yield Treasures
A good site for metal detecting is an area that has been utilized by a few people over a long period of time, or an area that has been utilized by thousands over a brief period of time.
In every region, there are areas of human endeavor and natural events vast enough to capture a treasure hunter's attention and offer great potential reward.
Such areas are transportation, entertainment, merchandising, lumbering, mining, agriculture, industry, natural and manmade disasters, wars, fires, floods and famines.
One should not forget about criminal activities such as bank robbery, moon shining, embezzlement and smuggling. These areas can offer lots of good metal detecting locations, but pin-pointing them and unearthing their treasures will be up to you.
Ruins of a Saw Mill in Upstate New York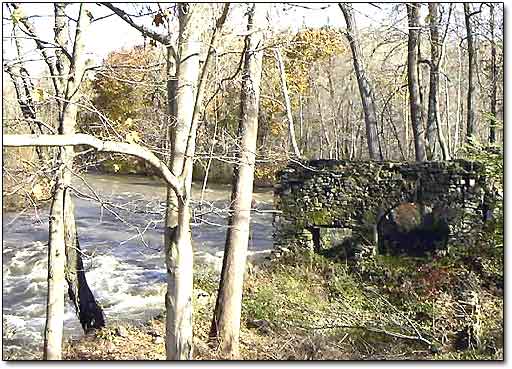 Before searching the property for treasures, always secure a permission from the property owner if necessary. Also, you should know that historical battle sites are protected by state and federal governments and off limits to all metal detector operators.
A Few Land Sites to Get You Started:
1) Old Schools
2) City/Town Parks
3) Circus/Fair Sites
4) Old Churches
5) Old Homestead Sites: You might want to read my article - a detailed and illustrated guide to searching abandoned homestead sites, How To Search Around Cellar Holes Successfully.
6) Swimming Holes and Areas
7) Picnic Groves: You might want to read my story about A Picnic Grove Discovery.
8) Athletic Fields
9) Scout Camps
10) Rodeo Arenas
11) Campgrounds
12) Ghost Towns
13) Beaches
14) Taverns: You definitely need to read my story on Detecting at Swedish Tavern Site, ca. 17th Century
15) Roadside Rest Stops
16) Sidewalk Grassy Strips
17) Amusement Parks
18) Rural Mailboxes
19) Reunion Areas
20) Revival sites
21) Fort Sites
22) Winter Sledding Areas
23) Lookout/Overlook Sites
24) Church Supper Groves
25) Fishing Spots
26) Fishing Camps
27) Resorts
28) Old Barns and Outbuildings
29) Battle Sites: Check out my story on Hunting for WW2 Relics in Europe.
30) Band Shells
31) Racetracks
32) Rural Boundary Walls
33) Roadside Fruit and Vegetable Stands
34) Under Seaside Boardwalks
35) Flea Market Areas
36) Ski Slopes
37) Drive Ins
38) Canal Paths
39) Vacant Lots
40) Motels
41) College Campuses
42) Farmer Market Areas: Check out my story on Metal Detecting at the Medieval Market Site.
43) Town Squares
44) Urban Yards and Backyards
45) Disaster Sites
46) Areas Around Skating Ponds
47) Hunting Lodges and Camps
48) Mining Camps
49) Railroad Grades, Stations and Junctions
50) Hiking Trails
51) Waterfalls
52) Rural Dance Sites
53) Lover's Lanes
54) Areas Adjacent to Historical Markers
55) Old Gas Stations and General Stores
56) Fence Posts
57) Chicken Houses
58) Bridges and Fords
59) Flower Beds: You might want to read my story on Coin Cache Discovery in Upstate New York.
60) Playgrounds
61) Old Garbage Dumps
62) Cloth Lines
63) Military Camp and Cantonment Sites
64) Wells and Outhouses
65) Abandoned Houses and Structures
66) Areas where Old Trails Cross County or State Boundaries
67) Piles of Scraped Soil at Construction Sites
68) Old Stone Quarries
69) Areas Around Old Abandoned Cemeteries in the Forest
70) Junctions of Abandoned Roads (crossroads)
Do not expect to find lots of treasure every time you metal detect. In fact, there may be times when you come back home empty-handed. But the real joy of this wonderful hobby is never knowing what you are going to dig up next!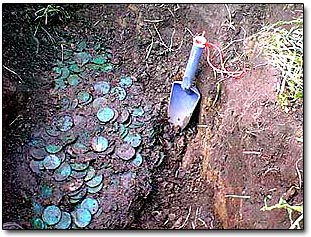 Number of pages: < Previous | 1 | 2 | 3 | 4 | 5 |
Secrets For Beginners | Useful Articles page | Metal Detector Reviews Worldwide | Useful Tips | MetalDetectingWorld Home
Sources: Our Vanishing Landscape by Eric Sloane, Detectorist by Robert H. Sickler, Buried Treasures You Can Find by Robert F. Marx, Cache Hunting by H. Glenn Carson, Where To Find Treasure by Dick Stout.