US Statehood Quarters of 1999 - Delaware, Pennsylvania, New Jersey, Georgia, Connecticut
US 50 STATE QUARTERS 1999-2008
In 1999 the US Mint began its 50 State Quarters Program to produce a series of 50 quarter dollar coins with special designs honoring each state. Five different designs were issued each year during the period 1999-2008. States were commemorated in the order of their entrance into statehood.
These are all legal tender coins of standard weight and composition. The obverse depicting President George Washington was modified slightly to include some of the wording previously used on the reverse. The modification was carried out by Mint sculptor-engraver William Cousins, whose initials were added to the truncation of Washington's neck adjacent to those of the original designer John Flanagan.
Obverse of State Quarters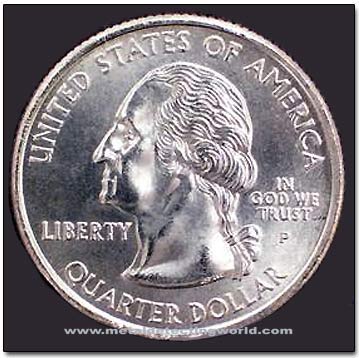 Specifics:
Diameter: 24.3 mm
Weight: 5.67 grams
Edge: Reeded
Composition: outer layers of copper-nickel (.750 copper, .250 nickel) bonded to inner core of pure copper
Quantity minted: n/a
Mints: Philadelphia, Denver, San Francisco
Each state theme was proposed, and approved by the governor of the state; final designs were created by mint personnel. Circulation coins are made at the Philadelphia and Denver mints. Proof coins are made in San Francisco.
The following pages contain both photographs of each state quarter's obverse and a short description of the state theme; five issues per page (for each year).
DELAWARE STATE QUARTER
The Delaware quarter's reverse celebrates Caesar Rodney's historic horseback ride in 1776.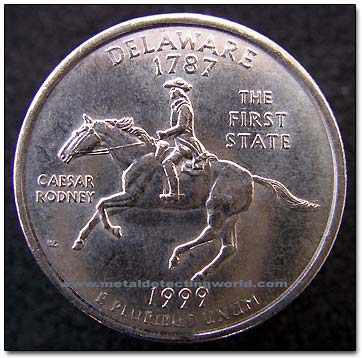 Caesar Rodney was a delegate to the Continental Congress. On July 1, 1776, despite suffering from asthma and cancer, Rodney set off on the 80-mile journey to Philadelphia withstanding thundershowers and a severe summer heat wave. The next day, he arrived at Independence Hall just in time to cast the deciding vote in favor of our nation's independence. This native of Dover has also held more public offices than any other Delaware citizen. In addition to being an extremely dedicated delegate, Rodney was also a soldier, judge, and speaker of Delaware's Assembly.
Release Date: January 04, 1999
Statehood Date: December 07, 1787
Mintage Numbers: 774,824,000
PENNSYLVANIA STATE QUARTER
The Pennsylvania quarter's reverse features the "Commonwealth" statue, an allegorical female figure. The state was founded on December 12, 1787.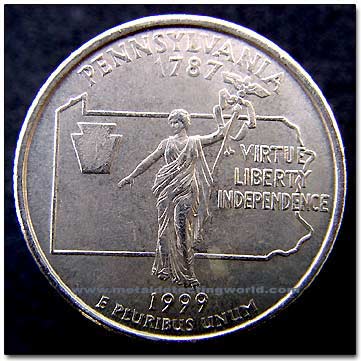 The statue "Commonwealth," designed by New York sculptor Roland Hinton Perry, is a bronze-gilded 14' 6" high female form that has topped Pennsylvania's state capitol dome in Harrisburg, Pennsylvania since May 25, 1905. Her right arm extends in kindness and her left arm grasps a ribbon mace to symbolize justice. The image of the keystone honors the states nickname, "The Keystone State." At a Jefferson Republican victory rally in October 1802, Pennsylvania was acknowledged as "the keystone in the federal union."
Release Date: March 08, 1999
Statehood Date: December 12, 1787
Mintage Numbers: 707,332,000
NEW JERSEY STATE QUARTER
The New Jersey quarter's reverse features General George Washington and members of the Colonial Army crossing the Delaware River. The design is based on the 1851 painting by Emmanuel Leutze, "Washington Crossing the Delaware," which currently hangs in the Metropolitan Museum of Art in New York City.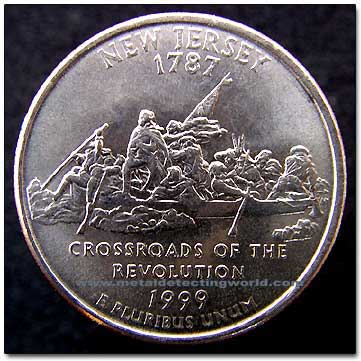 It was a cold Christmas night in 1776 and the Delaware River was frozen in many places. General George Washington calculated the enemy would not be expecting an assault in this kind of weather. He and his soldiers courageously crossed the Delaware River into Trenton, NJ. Using surprise as their greatest weapon, Washington's army captured over 900 prisoners and secured the town. Later that night, his army continued towards Princeton, NJ, again taking the enemy by surprise. These two victories proved very important to his army as they gave the soldiers courage, hope, and newfound confidence.
Release Date: May 17, 1999
Statehood Date: December 18, 1787
Mintage Numbers: 662,228,000
GEORGIA STATE QUARTER
The Georgia quarter's reverse depicts the state's geographical outline, motto - "Wisdom, Justice, Moderation,", tree - the Live Oak, the peach - a symbol long associated with the state and nickname. The selected design incorporates several symbols associated with this traditional, yet very diverse southern state.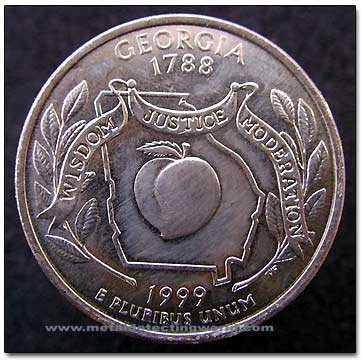 Release Date: July 19, 1999
Statehood Date: January 02, 1788
Mintage Numbers: 939,932,000
CONNECTICUT STATE QUARTER
The Connecticut quarter's reverse celebrates "The Charter Oak" tree, which proved to be a good hiding place.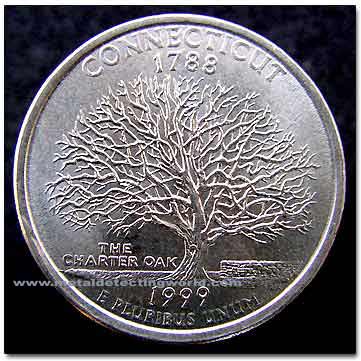 On the night of October 31, 1687, Connecticut's Charter was put to a test. A British representative for King James II, challenged Connecticut's government structure and demanded its surrender. In the middle of the heated discussion, with the Charter on the table between the opposing parties, the candles were mysteriously snuffed out, darkening the room. When visibility was reestablished, the Connecticut Charter had vanished. Heroic Captain Joseph Wadsworth saved the Charter from the hands of the British and concealed it in the safest place he could find - in a majestic white oak. This famous tree, "The Charter Oak," finally fell during a great storm on August 21, 1856.
Release Date: October 12, 1999
Statehood Date: January 09, 1788
Mintage Numbers: 1,346,624,000
Total of state quarters minted in 1999: 4,430,940,000
Year of issuance - | 1999 | 2000 | 2001 | 2002 | 2003 | 2004 | 2005 | 2006 | 2007 | 2008 |
Back to US Quarters Page 3 | Numismatic Corner | US Coins Page | Coin Photo Galleries | MetalDetectingWorld Home
Sources: Encyclopedia Of U.S. Coins by Mort Reed and The Official Red Book of United States Coins by R.S. Yeoman.