US Gold Coins
Coins Found in North-East USA - Numismatic Information, Specifications, Key Dates
This page depicts only a few US Gold Coins, and includes their specifics, mintage records, key dates with coin values (in VF-20 and EF-40 conditions) and images of a few types (not all) that were recovered at various locations in the North-East USA, or won at the competition hunts.
The earliest gold coins circulated in the United States were foreign coins, mostly gold, brought from Europe.
The first US gold coin, Liberty Head 1 Dollar, was authorized by the Act of March 3, 1849.
Gold American Eagle, Indian Head Type, 1908 - 1929
1910 Quarter Eagle ($2.50)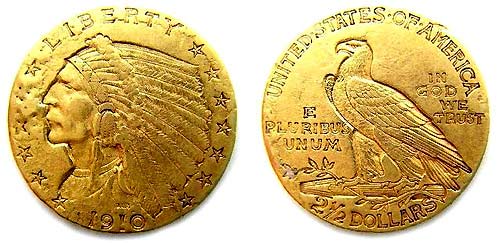 Specifications:
Diameter: 18 mm
Weight: 4.18 grams (net weight: 0.12094 oz. pure gold) or 64.5 grains
Edge: Reeded
Composition: .900 gold, .100 copper
Quantity minted: 7,252,088
Proofs minted: 1,728
Mints: Philadelphia, Denver
Mint marks: D only
Designers: Bela Lyon Pratt
OBVERSE:
The design represents a completely new approach - Intaglio, which is the opposite of Cameo: the design is in relief but literally "pushed" below the surface, with the highest point in the relief barely equal to the plane of the coin. There is no border pattern. The Indian Head (male), facing left, is attired in the most realistic of headdresses in comparison to other Indian Head designs. The main devices and legends are incuse.
Key-Dates and Coin Values:
. 1911 D; VF-20: $655.00, EF-40: $1,100
Average coin values of other dates: VF-20 - $135.00, EF-40 - $155.00
Gold American Eagle, Liberty of Saint-Gaudens Design, 1986 - present
1/10th oz 2001 Half Eagle ($5)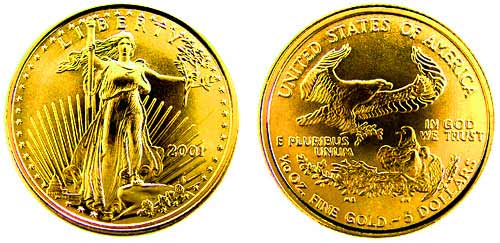 The gold American Eagle coins depict the Liberty design by Augustus Saint-Gaudens on the obverse and a "family of eagles" on the reverse. Minted and backed for accuracy of weight and purity by the United States Government Mint. Each is legal tender of the US government and made of real gold. Worth much more than the face value due to the gold content.
This beautiful series of coins began in 1986 and continues today. Minted at West Point, New York, American Gold Eagle bullion coins are 22-karat gold, which means they contain 91.6% gold and 8.4% of a copper-silver alloy. Produced in both Proof and Uncirculated condition. Because American Gold Eagles are the most popular gold bullion coins, they provide instant liquidity.

American Gold Eagle bullion coins minted 1986-1991 are dated with Roman numerals. In 1992, the U.S. Mint switched to Arabic numbers for dating Gold Eagles. Coins come in four different sizes, each having the same design.
Sizes are:
1/10th oz American Half Eagle ($5) gold coin - 16.5mm in diameter
1/4th oz American Eagle ($10) gold coin - 22mm in diameter
1/2 ounce American Eagle ($25) gold coin - 27mm in diameter
1 ounce American Eagle ($50) gold coin - 32.7mm in diameter
1/2 ounce 2002 American Eagle ($25) Gold Coin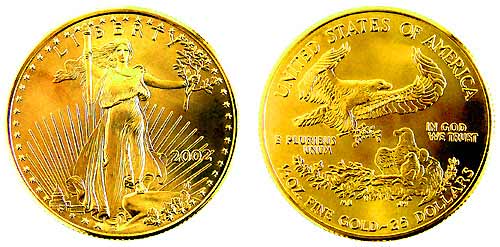 Augustus Saint-Gaudens, designer of the gold $10 and $20 coins first released in 1907, considered simplicity essential in coinage design. The motto "In God We Trust" was thereby left off the first issues of both denominations. It was restored by Congress on May 18, 1908.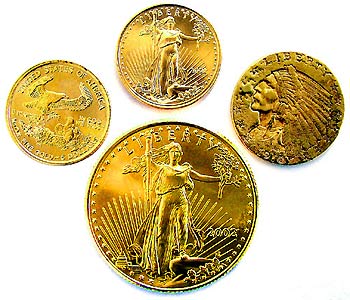 In 1934, United States citizens were prohibited from hoarding of monetary gold in this country; this was extended in 1961 to gold held abroad as well. The government issued gold certificates only to Federal Reserve banks. All restrictions on holding gold were removed in 1975.
Gold Coin Found in Upstate New York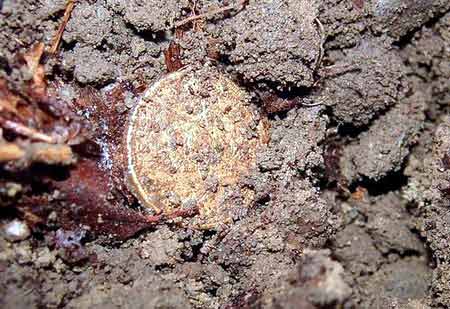 Numismatic Corner | US Coins Page | Coin Photo Galleries page | Silver Reales page | MetalDetectingWorld Home
Sources: Encyclopedia Of U.S. Coins by Mort Reed and The Official Red Book of United States Coins by R.S. Yeoman.