Metal Detecting Research 101 - A Complete Guide, page 1
Serious Research is a Key to Successful Treasure Hunting
If you would like to recommend this research guide to everyone, please click the button:
Introduction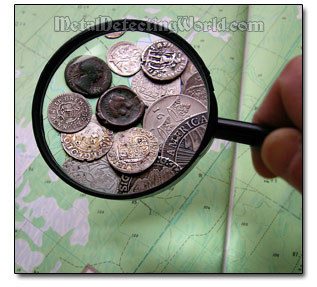 To do the best in metal detecting, a detectorist must be armed with one of the most important components - the knowledge of good locations to search.
Just like in any successful real estate business, "location, location and location!" is the key principle in serious metal detecting. That means "research, research and research!"
Without conducting a serious research, a metal detectorist cannot obtain any good leads to the unsearched and, therefore, "fruitful" locations. So he/she ends up detecting at the obvious, well-known and searched out sites, and competing with other detectorists who are doing the same. This "lazy" approach would result in wasting a lot of efforts for recovering fewer and poorer finds.
Theoretically, a good site to metal detect is an area that has been utilized by a few people over a long period of time, or an area that has been utilized by thousands over a brief period of time. In reality, the best hunt sites are the ones that have not seen many detectorists or, even better, have not been detected at all. Research, now more than ever, is essential for finding such good sites and getting true rewards for substantial time and efforts put into the process.
The metal detecting research includs archival studies (also internet and electronic libraries), map analysis (map research) and a thorough field survey (footwork). Out of many forms of research, including archival studies, used to find either a specific type or just any common type of hunt sites, basic map research and footwork are easy to conduct, quite effective and do not require special skills. This article is mainly focusing on these two basic research methods which would get you started and help you in getting satisfactory results.
Some enthusiasts might argue that these methods conceptualize the search for the obvious, and partially it is true. But in many cases, the productive sites are simply overlooked by everybody who considers them the obvious and, therefore, "hammered out," and turns away from them.
A few other types of research are explained on the last pages of this article. Please feel free to submit your own practical tips and advices that could help others! Below is a Table of Contents to help you in navigating.
TABLE OF CONTENTS:

Introduction - Page 1

Basic Map Research:

1) Map Analysis of Old US Maps - Page 2

• Map Scales of Old US Topographical Maps - Page 5

2) Map Analysis of European Maps:

• European Metal Detecting & Historical Maps - Page 7

• A Few Facts on European Cartography of the Early Modern Period (1500s - 1800s) - Page 8

• Important Specifics that Should Be Taken in Consideration:

•• 1. Settlement Patterns & Types of Settlements in Eastern Europe - Page 9

•• 2. Settlements that Disappeared by 19th Century - Page 12

•• 3. Relocated Settlements - Page 13

•• 4. Settlements with Names Changed - Page 13

•• 5. Settlements that Disappeared by 18th Century - Page 14

•• 6. Old Symbols, Terms & Legends Used on Historic Maps - Page 17

•• 7. Map Orientation According to North & South Directions - Page 18

•• 8. Dealing with Hunt Sites Infested with WW1 & WW2 Military Junk - Page 19

3) Understanding Topographic Maps - Page 21

4) Topographic Map Symbols (Page 22):

• Modern US Topographic Map Symbols - photo gallery

• Old US Topographic Map Symbols - photo gallery

• Soviet Topographic Map Symbols - photo gallery

• Australian Topographic Map Symbols - photo gallery

5) Understanding Map Scales of Historic & Modern Maps (Page 23):

• Scales of Modern Topographic Maps - Page 24

• Large Scales of European Historic Maps - Page 25

6) Basic Calculations Used in Map Research (Page 26):

• Converting Between Scale Types of Historic & Modern Maps:

•• 1) Converting Bar Scale to Representative Fraction (RF)/Ratio Scale

•• 2) Converting RF/Ratio Scale to Lexical Scale

•• 3) Converting Lexical Scale to RF/Ratio Scale

• Determining Ground Distance & Area from Map with Scale:

•• 1) Calculating Ground Distance from Map with RF & Ratio Scales

•• 2) Calculating Ground Distance from Map with Lexical Scale

•• 3) Calculating Ground Distance from Map with Bar Scale

•• Calculating Area from Maps with RF/Ratio Scale
•
How To Determine the Scale of a Digital Historic Map if No Scale Is Shown - Tutorial
- Page 27
7) Basic Technique for Map Analysis:
•
Map Overlay
- Page 30
•
Map Rectification
- Page 32
•
Example of Basic Maps Comparison - Tutorial
- Page 33
8) Using OziExplorer GPS Mapping Software for Locating Hunt Sites
- Page 38
Footwork and Observation:
1)
The Footwork Concept
- Page 42
2)
Abandoned Roads & Old Roadways
- Page 43
3)
Deer Trails
- Page 45
4)
Stone Walls & Fences
- Page 46
5)
First-Growth Trees
- Page 48
6)
Atypical & Inherent Vegetation
- Page 49
7)
Stream Confluences & Waterways
- Page 51
8)
Spotting Pottery & China Shards in Wooded Areas
- Page 52
9)
Cellar Holes & Ground Depressions
- Page 54
10)
Other Man-Made Features
- Page 55
11)
Transecting the Fields
(Page 58)
•
Spotting Iron Relics & Artifacts
- Page 58
•
Spotting Brick, Limestone & Shale Fragments
- Page 58
•
Spotting Pottery, China Shards & Bottle Glass
- Page 59
•
Cropmarks, Soilmarks, Rainmarks, Frostmarks & Shadow Marks
- Page 61
12)
Footwork: Simple Safety Rules To Follow
- Page 62
Other Forms of Research:
1)
Obtaining Leads from Old-Timers
- Page 63
2)
Obtaining Leads from Internet, Archives and Libraries
- Page 64
3)
Historical Road Signs, Plaques, Plates & Markers
- Page 65
4)
Old Photographs & Lithographs
- Page 66
List of 70 Basic Locations for Metal Detecting
Getting Permission to Hunt
If you would like to recommend this research guide to everyone, please click the button:
Number of pages: | 1 | 2 | 3 | 4 | 5 | 6 | 7 | 8 | 9 | 10 | 11 | 12 | 13 | 14 | 15 | 16 | 17 | 18 | 19 | 20 | 21 | 22 | 23 |

| 24 | 25 | 26 | 27 | 28 | 29 | 30 | 31 | 32 | 33 | 34 | 35 | 36 | 37 | 38 | 39 | 40 | 41 | 42 | 43 | 44 | 45 |

| 46 | 47 | 48 | 49 | 50 | 51 | 52 | 53 | 54 | 55 | 56 | 57 | 58 | 59 | 60 | 61 | 62 | 63 | 64 | 65 | 66 | Next >
Useful Articles page | Secrets for Beginners | Useful Tips | MetalDetectingWorld Home