Metal Detecting Research & Exploration - A Complete Guide, page 48
Footwork & Observation
FIRST-GROWTH TREES INDICATE HUNT SITES
The oldest homesteads were usually graced with one big first-growth tree. Such trees were also left standing on the farming lands as "markers" - that is why some of them, large in size and diameter, still can be seen in the forest that has taken the farming fields back.
All farmed land was once barren of trees except for these farmhouse markers and a few "giants" have remained standing. Nowadays, due to their outstanding features, these first-growth trees are perfect markers of the treasure hunting sites hidden in the forest.
Always explore the area around a first-growth tree or large decayed stump, in 99% of cases, you would find a foundation or cellar hole.
This First-Growth Tree Struck by Lightning Lead Me and My Buddy Rodney to the Homestead Site in Upstate New York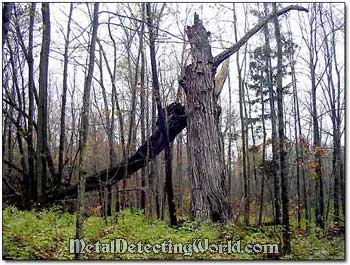 Rodney Standing on the Edge of Large Cellar Hole Located Near the Tree Trunk...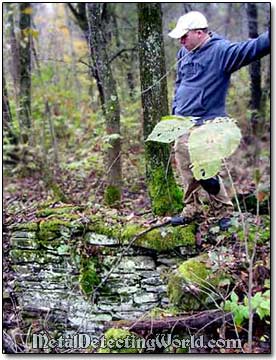 ...Where This 1836 New York Militia Belt Buckle Was Found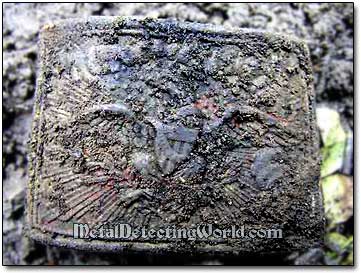 In the area where the natural landmarks are scarce, the ground around a still-standing first-growth tree or its remains should be always searched. From the yesteryear treasure hider's point of view, a single-standing tree would be the best landmark to mark the location of buried treasure.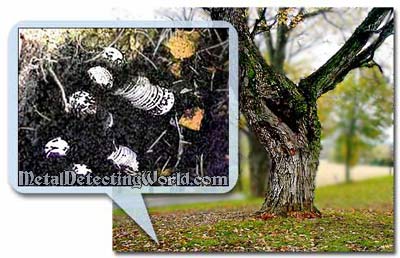 Number of pages: < Previous | 1 | 2 | 3 | 4 | 5 | 6 | 7 | 8 | 9 | 10 | 11 | 12 | 13 | 14 | 15 | 16 | 17 | 18 | 19 | 20 | 21 | 22 | 23 |

| 24 | 25 | 26 | 27 | 28 | 29 | 30 | 31 | 32 | 33 | 34 | 35 | 36 | 37 | 38 | 39 | 40 | 41 | 42 | 43 | 44 | 45 |

| 46 | 47 | 48 | 49 | 50 | 51 | 52 | 53 | 54 | 55 | 56 | 57 | 58 | 59 | 60 | 61 | 62 | 63 | 64 | 65 | 66 | Next >