Metal Detecting Research & Exploration - A Complete Guide, page 56
Footwork & Observation
SPOTTING OTHER MAN-MADE FEATURES - Wells & Underground Root Cellars
(CONTINUED from Page 55)
The abandoned old stone-inlaid wells and water-holes (used for watering cattle) are usually intact and sometimes the only clue to former presence of a homestead nearby. In most cases, the old wells are hidden by the undergrowth and fallen trees. Only a few wells are covered with large slabs of stones to prevent anybody from falling in. Some wells are very deep and still have water. That is why one should be extremely cautious while exploring the site of an old homestead.
An Old Stone-Inlaid Well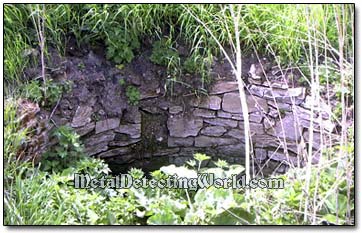 The stone-inlaid underground root cellars are mostly found in Scandinavia and north-eastern Europe. I myself have never explored these structures but I have heard treasure hunting stories related to these features.
An Entrance to Underground Stone-Inlaid Root Cellar Exposed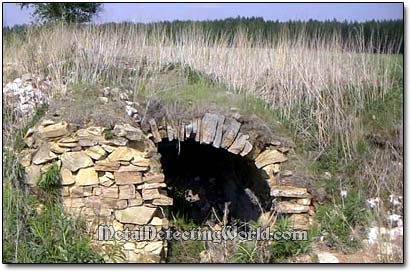 An Entrance to Underground Stone-Inlaid Root Cellar (Scandinavian Type)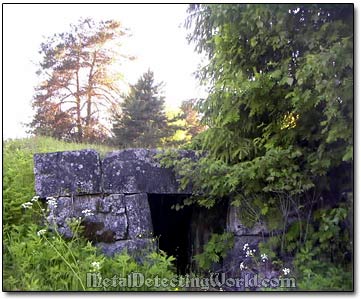 Number of pages: < Previous | 1 | 2 | 3 | 4 | 5 | 6 | 7 | 8 | 9 | 10 | 11 | 12 | 13 | 14 | 15 | 16 | 17 | 18 | 19 | 20 | 21 | 22 | 23 |

| 24 | 25 | 26 | 27 | 28 | 29 | 30 | 31 | 32 | 33 | 34 | 35 | 36 | 37 | 38 | 39 | 40 | 41 | 42 | 43 | 44 | 45 |

| 46 | 47 | 48 | 49 | 50 | 51 | 52 | 53 | 54 | 55 | 56 | 57 | 58 | 59 | 60 | 61 | 62 | 63 | 64 | 65 | 66 | Next >