Metal Detecting Research & Exploration - A Complete Guide, page 44
Footwork & Observation
EXPLORING ABANDONED ROADS AND OLD ROADWAYS
(CONTINUED from Page 43)
In European countries, major highways were cobble stoned in the early Modern period (1500-1800). These roads were built so skillfully that some of them are still in use. And surprisingly they have not been maintained since they were built a few centuries ago! These everlasting roads run for miles through the forests and fields, and it is mind-boggling to think how much labor and time were put into their construction!
This Usable Cobble Stoned Road Running through Deep Woods Was Built in the Early 1700s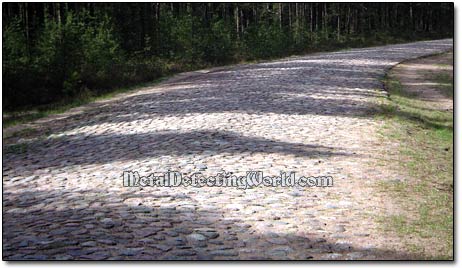 The word "highway" came from old Europe, where there was always a smooth private road for the King, with adjoining lower shelf road for commoners. The word "turnpike" originated from the past when a pike turned or raised to admit travelers past the tollhouse. The custom of leading a horse from the left, and the convenience of having the teamster's seat also on the left side of the wagon, was why turnpike wagons traveled to the right of the road; because of that, Americans started driving on the right side of the road.
While exploring the abandoned roads, you should search and investigate the following:
1) Intersections or junctions of two and more roads
2) Openings in stone walls that run along the road
3) Spots around creek crossings (possible "rest stops") and bridges, or bridge remains
4) Side pathways and driveways which might lead to the homestead site
5) Adjacent Openings and meadows in the forest
6) Earth mounds and depressions situated on the roadsides
7) Single-standing or/and first-growth trees, apple or other fruit trees situated on the roadsides and at distance in the forest
8) Patches of unusual or alien vegetation and planting on the roadsides and at distance in the forest
This Trail Used to Be a Busy Stage-Coach Road in Upstate New York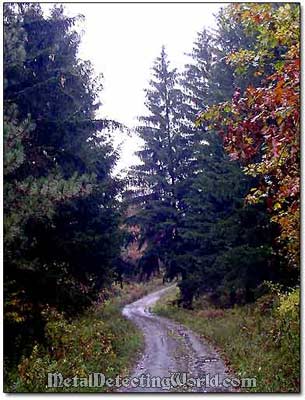 Number of pages: < Previous | 1 | 2 | 3 | 4 | 5 | 6 | 7 | 8 | 9 | 10 | 11 | 12 | 13 | 14 | 15 | 16 | 17 | 18 | 19 | 20 | 21 | 22 | 23 |

| 24 | 25 | 26 | 27 | 28 | 29 | 30 | 31 | 32 | 33 | 34 | 35 | 36 | 37 | 38 | 39 | 40 | 41 | 42 | 43 | 44 | 45 |

| 46 | 47 | 48 | 49 | 50 | 51 | 52 | 53 | 54 | 55 | 56 | 57 | 58 | 59 | 60 | 61 | 62 | 63 | 64 | 65 | 66 | Next >