Metal Detecting Research & Exploration - A Complete Guide, page 4
Map Research for Locating Treasure Hunting Sites in the US
BASIC MAP COMPARISON
(CONTINUED from Page 3)
After these maps have been compared, all potential metal detecting sites - cellar holes and foundations, should be marked and transferred onto the modern topographical map. The US topo map would be used for locating the cellar holes during the footwork on the ground (described on page 42). You also might want to read my article - a complete guide to searching the abandoned homestead sites - How To Search Around Cellar Holes Successfully.
A Fragment of 1947 USGS 7.5-minute Topographic Map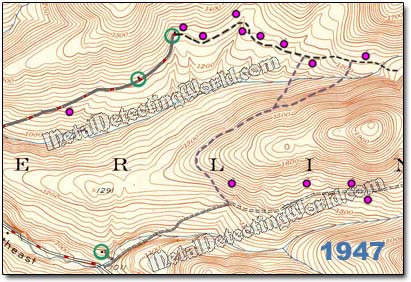 The best topographic maps for treasure hunting purposes are those in the "seven-and-one-half-minute" (7.5-minute) series, with a scale of 1 to 24,000. Each of these maps covers an area of approximately 60 square miles. These maps can be obtained from the various sources including the U.S. Geological Survey (USGS).
As you can see, this simple map comparison yielded seven available hunt sites that are situated within a 1/2-mile distance on one road. Next step is to do some footwork, locate the hunt sites, and then have fun treasure hunting.
All Maps Analyzed and Compared
You can expand your map research by using the historic USGS topographic maps of the late 19th and early 20th centuries. Other types of maps that are helpful for your map research: tax maps, fire insurance maps, military maps, railroad maps, canal maps, property deeds, census documents.
If you would like to recommend this article to everyone, please click the button:
Number of pages: < Previous | 1 | 2 | 3 | 4 | 5 | 6 | 7 | 8 | 9 | 10 | 11 | 12 | 13 | 14 | 15 | 16 | 17 | 18 | 19 | 20 | 21 | 22 | 23 |

| 24 | 25 | 26 | 27 | 28 | 29 | 30 | 31 | 32 | 33 | 34 | 35 | 36 | 37 | 38 | 39 | 40 | 41 | 42 | 43 | 44 | 45 |

| 46 | 47 | 48 | 49 | 50 | 51 | 52 | 53 | 54 | 55 | 56 | 57 | 58 | 59 | 60 | 61 | 62 | 63 | 64 | 65 | 66 | Next >