Metal Detecting Research & Exploration - A Complete Guide, page 34
Basic Map Analyzing Techniques
MAP COMPARISON - A TUTORIAL
(CONTINUED from Page 33)
My second step is to study the oldest available maps of the area and try to pinpoint the wasted grounds on them. For convenience, I assigned each location a number. At first, it may look confusing to you... Just bear with me.
A Fragment of Historic 1676 Map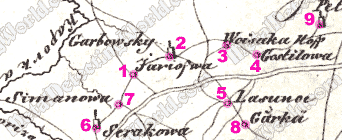 Locations # 1, # 2, # 4, # 5, # 6 and # 7 are villages, and location # 3 is a manor called Woisaka Hoff; hoff (swe.) = manor, estate. Four locations - # 7, # 8, # 9 and # 10, are not the "key-players" in this tutorial and marked just to show you a couple of noticeable changes.
A Fragment of Historic 1704 Map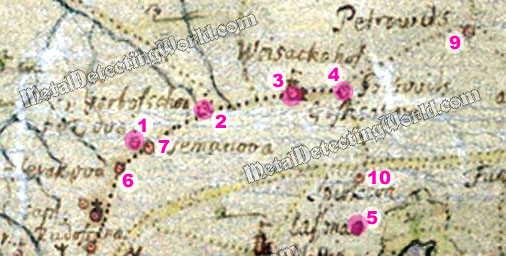 After comparing just these two historic maps, one can see a few changes that had occurred within 30 years between their issuances: settlement # 8 had disappeared from the map, and settlement # 10 appeared on it, a couple of other villages were relocated or merged with other settlements. Also the spellings of place names are slightly different.
Number of pages: < Previous | 1 | 2 | 3 | 4 | 5 | 6 | 7 | 8 | 9 | 10 | 11 | 12 | 13 | 14 | 15 | 16 | 17 | 18 | 19 | 20 | 21 | 22 | 23 |

| 24 | 25 | 26 | 27 | 28 | 29 | 30 | 31 | 32 | 33 | 34 | 35 | 36 | 37 | 38 | 39 | 40 | 41 | 42 | 43 | 44 | 45 |

| 46 | 47 | 48 | 49 | 50 | 51 | 52 | 53 | 54 | 55 | 56 | 57 | 58 | 59 | 60 | 61 | 62 | 63 | 64 | 65 | 66 | Next >