Metal Detecting Research & Exploration - A Complete Guide, page 5
Map Research for Locating Treasure Hunting Sites in the US
MAP SCALES OF HISTORIC USGS TOPOGRAPHICAL MAPS
If you are not familiar with a term Map Scale and would like to learn about map scales, their types and applications, please first read a chapter on Understanding Map Scales on Historical and Modern Topographical Maps on page 23.
The United States Geological Survey was established in 1879 and began its topographic atlas of the United States in 1882.
First USGS maps were created at small scales of 1:250,000 for 1-degree areas and 1:125,000 for 30-minute areas.
The US topographic map scales were increased with time, and by 1894, most of the maps were created for 15-minute areas.
Later, the 1:31,680-scale 7.5-minute mapping program resulted from demand for the more detailed topographic maps in the 1930s. Innovations in the mapping methods, production workflow and instrumentation lead to introduction of the 7.5-Minute Series Maps at a scale of 1:24,000 soon after World War II. The USGS 7.5-minute topo map series was completed in 1991.
Though the 7.5-minute series has been a convenient cartographic resource, many of the maps are seriously out of date, as much as twenty years or more. The paper topographic map series program has been replaced by The National Map - "an evolutionary step toward complete digital topographic map content." But the old USGS topo maps still remain an important part in research.
The smaller-scaled USGS maps (with scales 1:250,000 and 1:125,000) can provide a view of the changes that have occurred in the cultural landscape, but I do not consider them to be as useful as the following USGS topographic maps:
15-Minute Series Maps, Scale 1:62,500
The 15-minute series, called Generation One or First Generation topographic sheets, depicted the first US large-scaled topographic maps and mapped the states at a scale of 1:62,500 (1 inch = approximately 1 mile, or 1cm = 625 meters). These maps are valued by researchers more for their 19th century historical content than for the level of detail.
Fragment of 15-minute Series Map, circa 1889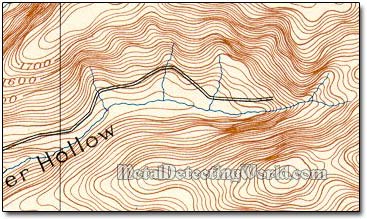 Each map is bounded by two meridians (lines of latitude) and two parallels (lines of longitude) spaced 15 minutes apart. Each sheet size is about 18" x 22" north of latitude 62 degrees and 17" x 27" south of that latitude, and covers 197-282 square miles area. The series was printed in black, brown, and blue inks and used the water-lining method to indicate rivers, lakes and coastal areas.
In the early 1910s, the 15-minute sheets began to appear overprinted with green ink depicting vegetative cover. In the early 1920s, sheets began to appear overprinted with red ink depicting simple road classification. Marginal notations, also in red, were added to show distance and direction along a road to the next town or city.
Features shown on these maps include the following: civil divisions of state, county, township, and city or village; public works, including railroads, tunnels, wagon roads, trails, bridges, ferries, fords, dams, canals; hypsography with contours and floodplain representations; and miscellaneous features of forest, sand, and sand dunes. The old 15-minute maps usually have a 20-foot contour interval.
The 15-minute series, at a scale of 1:63,360 (one inch representing one mile), still remains the primary topographic quadrangle for the state of Alaska only. Nearly 3,000 maps cover 97% of the state. The area portrayed on each sheet ranges from 207 to 280 square miles, depending on the latitude.
Number of pages: < Previous | 1 | 2 | 3 | 4 | 5 | 6 | 7 | 8 | 9 | 10 | 11 | 12 | 13 | 14 | 15 | 16 | 17 | 18 | 19 | 20 | 21 | 22 | 23 |

| 24 | 25 | 26 | 27 | 28 | 29 | 30 | 31 | 32 | 33 | 34 | 35 | 36 | 37 | 38 | 39 | 40 | 41 | 42 | 43 | 44 | 45 |

| 46 | 47 | 48 | 49 | 50 | 51 | 52 | 53 | 54 | 55 | 56 | 57 | 58 | 59 | 60 | 61 | 62 | 63 | 64 | 65 | 66 | Next >