Metal Detecting Research & Exploration - A Complete Guide, page 7
Map Research for Locating Treasure Hunting Sites in Europe
European Metal Detecting and Historical Maps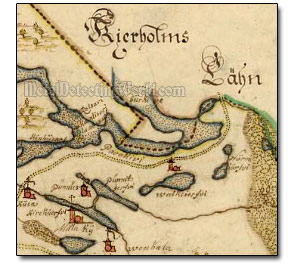 Metal detecting and treasure hunting are not the same throughout Europe and differ from one country to another. For instance, most of Western Europe is overpopulated, and there is not much land readily available for detecting in many parts of it. Nothing to say about a few countries in which the law prohibits the use of metal detectors.
In terms of metal detecting, Eastern Europe is quite the opposite and still provides many opportunities to the hobby enthusiasts, whether they search for old coins and artifacts or WW2 military relics. In this part of Europe, metal detecting also differs from north to south. While the oldest hunt sites in North-Eastern Europe date back no further than 7th century, and there are not so many of them, numerous metal detecting sites in South-Eastern Europe date way back into the Bronze and Iron Ages.
I prefer treasure hunting in North-Eastern Europe, especially in the eastern Baltic Sea region because of this region's rich post-medieval history, vast areas available for metal detecting, and the most important factor - a wide variety of the historical maps that can be used for research and are available in the libraries and on the web. In this article, I am sharing with you what I have learned while researching and treasure hunting in this one particular region of Eastern Europe.
My Favorite Area for Metal Detecting in Eastern Baltic Sea Region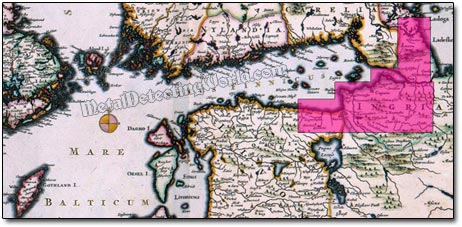 The dates of issuance of the Baltic Sea region's historical maps range from the early 17th century to the end of the World War II. Over 300 years of decent cartography provide enough material for researching the sites related to any type of metal detecting activity.
And the diversity, accuracy and availability of large-scaled historic maps not only make map research easy and less time-consuming, but also minimize or even eliminate other forms of research such as "footwork", for instance.
Number of pages: < Previous | 1 | 2 | 3 | 4 | 5 | 6 | 7 | 8 | 9 | 10 | 11 | 12 | 13 | 14 | 15 | 16 | 17 | 18 | 19 | 20 | 21 | 22 | 23 |

| 24 | 25 | 26 | 27 | 28 | 29 | 30 | 31 | 32 | 33 | 34 | 35 | 36 | 37 | 38 | 39 | 40 | 41 | 42 | 43 | 44 | 45 |

| 46 | 47 | 48 | 49 | 50 | 51 | 52 | 53 | 54 | 55 | 56 | 57 | 58 | 59 | 60 | 61 | 62 | 63 | 64 | 65 | 66 | Next >