Metal Detecting Research & Exploration - A Complete Guide, page 55
Footwork & Observation
SPOTTING OTHER MAN-MADE FEATURES - EVIDENCE OF PAST HUMAN ACTIVITIES
Depending on a type of climate zone and geography of the area you are exploring, the man-made features not mentioned on previous pages may vary greatly. A few of them can often be discovered in the woods and are worth of mentioning.
The man-made Ponds can be distinguished from the small natural water bodies by the appearance of surrounding area which is usually clear of the fallen old trees, old rotten stumps, and large boulders, and does not have a rough surface. Either the active spring was the source of water for a constructed pond or a dam was built to create a pond. The old dams or their remains should be thoroughly investigated.
A Small Man-Made Pond at the Former Homestead Site Hidden in Wooded Area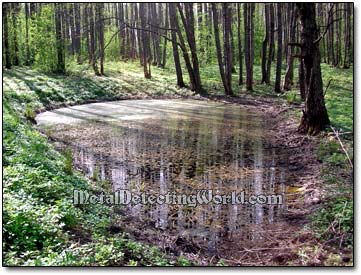 Ponds were built near the homesteads for various purposes such as providing water for cattle, grow fish, swimming, and sometimes for decorative purpose if they were included into the landscape plans of a large estate.
Also the tree lines were included into the landscape of large estates. Oak or maple tree lines were planted to mark the alleys, park walks, estate driveways and property boundaries. Sometimes such tree lines, consisted of either first-growth or younger trees of descending generations, can be seen in the forest or in fields.
A Tree Line Marking the Boundary of Former Estate Site Hidden in Wooded Area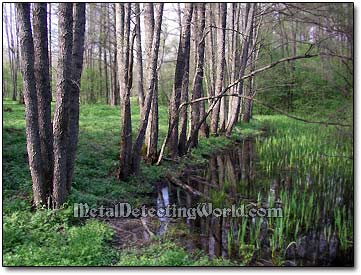 An Old Tree Line with Wooden Fence Marking the Boundary of Former Estate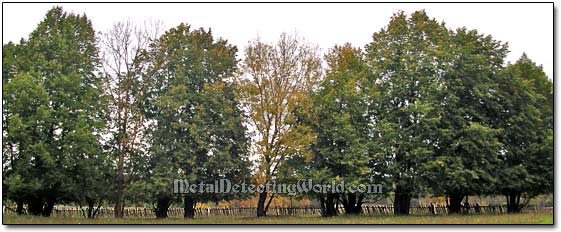 Number of pages: < Previous | 1 | 2 | 3 | 4 | 5 | 6 | 7 | 8 | 9 | 10 | 11 | 12 | 13 | 14 | 15 | 16 | 17 | 18 | 19 | 20 | 21 | 22 | 23 |

| 24 | 25 | 26 | 27 | 28 | 29 | 30 | 31 | 32 | 33 | 34 | 35 | 36 | 37 | 38 | 39 | 40 | 41 | 42 | 43 | 44 | 45 |

| 46 | 47 | 48 | 49 | 50 | 51 | 52 | 53 | 54 | 55 | 56 | 57 | 58 | 59 | 60 | 61 | 62 | 63 | 64 | 65 | 66 | Next >