Metal Detecting Research & Exploration - A Complete Guide, page 36
Basic Map Analyzing Techniques
MAP COMPARISON - A TUTORIAL
(CONTINUED from Page 35)
Not only the map shows important details such as configurations of villages and locations of homesteads, but also accurately depicts both major and minor roadways - this would help me to overlay the maps accurately. In terms of map scale, accuracy and detail, this historic map is the most adequate to the modern topo map I am using for this research, and sufficient enough for the Map Overlay method. In Photoshop, I electronically rectified the 1868 historic map - scaled and rotated its image a little, to make it fit into the 1988 topo map. For the purpose of demonstration, I colored the historic map purple.
Overlaying the 1988 Topo Map with 1868 Historic Map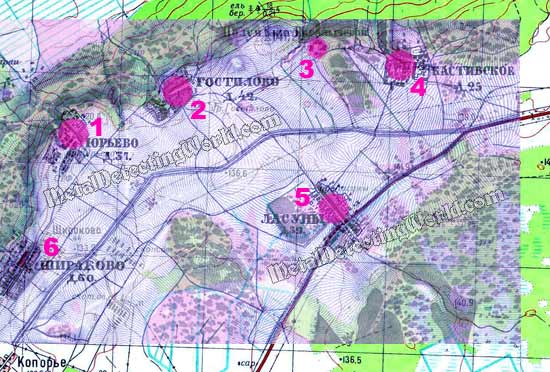 I mark the locations with pink buttons, and, after removing the historic map, I place the longitude and latitude coordinates (obtained from Google Earth) and altitude (elevation) value at each location on my topo map.
Now I have all coordinates to be used with GPS navigation and enough visual info for conducting my footwork and metal detecting projects.
All Obtained Information is Placed on Topographic Map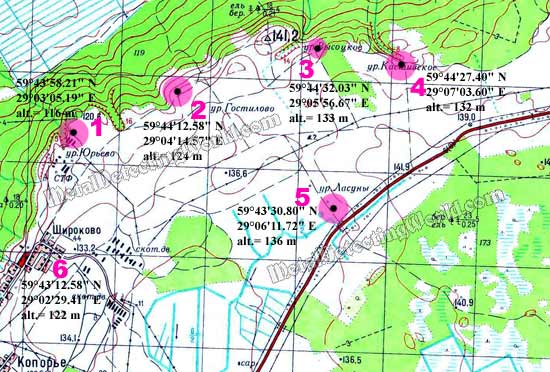 Below you can see what these locations look like in reality
Metal Detecting Location # 1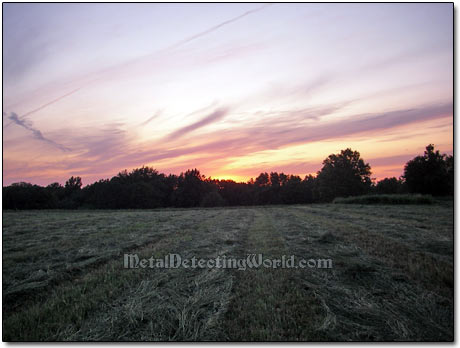 Coin Shooting Location # 2

Recovering Large Copper Coins, ca. 17th Century, at Gostilovo Hunt Site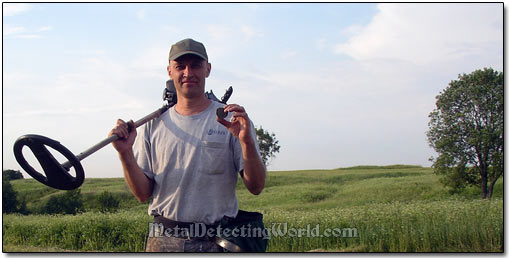 Number of pages: < Previous | 1 | 2 | 3 | 4 | 5 | 6 | 7 | 8 | 9 | 10 | 11 | 12 | 13 | 14 | 15 | 16 | 17 | 18 | 19 | 20 | 21 | 22 | 23 |

| 24 | 25 | 26 | 27 | 28 | 29 | 30 | 31 | 32 | 33 | 34 | 35 | 36 | 37 | 38 | 39 | 40 | 41 | 42 | 43 | 44 | 45 |

| 46 | 47 | 48 | 49 | 50 | 51 | 52 | 53 | 54 | 55 | 56 | 57 | 58 | 59 | 60 | 61 | 62 | 63 | 64 | 65 | 66 | Next >