Metal Detecting Research & Exploration - A Complete Guide, page 31
Basic Map Analyzing Techniques
MAP OVERLAY
(CONTINUED from Page 30)
By comparing another historic map of a scale 1:42,000 (1 cm on map equals to 420 m on the ground), which was printed in 1799, with my 1988 topographic map, I can determine the new boundaries of the Kulla village as it had grown in size by 1799. I also can pinpoint the location of the nameless village's site since now a small chapel in its place confirms its position. And I can get the GPS coordinates for the Komarowa manor (Komarowa Hoff) that had been built in the area by 1799.
Second Set of Map Fragments To Be Used for Map Overlay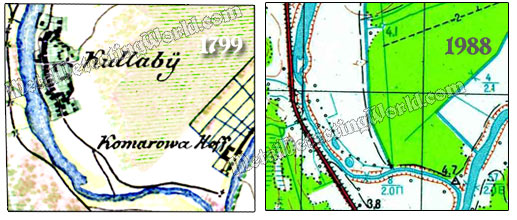 A Fragment of 1689 Map Overlaying the Topo Map Fragment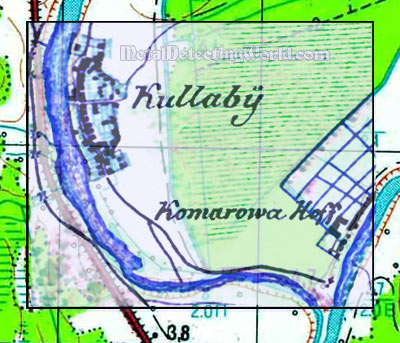 By overlaying my two historic maps, I can determine the oldest part of the Kulla village, i.e. at which spot the oldest coins and relics could be found.
Two Historic Map Fragments Used in Map Overlay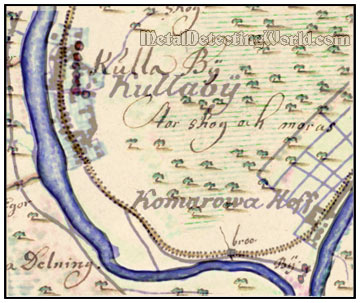 The third method is the easiest and the quickest means for obtaining true leads to the potential treasure hunting sites. Plus, it eliminates gross errors.
NOTE: To overlay a number of different map-images of the same area into a single image data set, the individual map-images must be georeferenced to a compatible coordinate system. This can be done only by the web-based rectification.
Number of pages: < Previous | 1 | 2 | 3 | 4 | 5 | 6 | 7 | 8 | 9 | 10 | 11 | 12 | 13 | 14 | 15 | 16 | 17 | 18 | 19 | 20 | 21 | 22 | 23 |

| 24 | 25 | 26 | 27 | 28 | 29 | 30 | 31 | 32 | 33 | 34 | 35 | 36 | 37 | 38 | 39 | 40 | 41 | 42 | 43 | 44 | 45 |

| 46 | 47 | 48 | 49 | 50 | 51 | 52 | 53 | 54 | 55 | 56 | 57 | 58 | 59 | 60 | 61 | 62 | 63 | 64 | 65 | 66 | Next >