Metal Detecting Research & Exploration - A Complete Guide, page 59
Footwork & Observation
TRANSECTING THE FIELDS TO LOCATE HUNT SITES
SPOTTING POTTERY, CHINA SHARDS and BOTTLE GLASS PIECES ON THE GROUND
Even though sometimes the pottery is less visible than brick fragments, it is another good clue to locating a former village site in the field. Pay attention to the ground surface to spot the scattered pieces of pottery, china shards and other nonmetallic objects such as broken window glass, bottle glass pieces, clay pipe stems, and charcoal, that had been just under the surface before getting exposed by heavy rains or wind erosion.
Pottery Fragments Scattered in the Field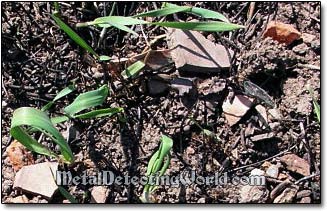 Knowledge of different pottery and ceramics types and time periods to which they belong will always be to your advantage. In the local museum, you can easily learn a few types of ceramics that have been characteristic for your area.
Pottery Fragments, circa 8th-18th Centuries, Unearthed in Fields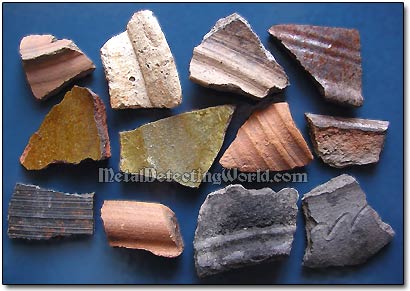 Some pottery fragments have an artistic pattern on them. Such a pattern may both help you in correct dating of pottery and provide a sufficient cultural identification of the pieces you have recovered: the origin and culture - all is invaluable info for determining the age of your hunt site!
Pottery Fragment with Characteristic Cultural Pattern, circa 8th Century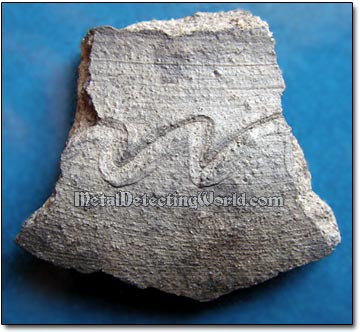 Number of pages: < Previous | 1 | 2 | 3 | 4 | 5 | 6 | 7 | 8 | 9 | 10 | 11 | 12 | 13 | 14 | 15 | 16 | 17 | 18 | 19 | 20 | 21 | 22 | 23 |

| 24 | 25 | 26 | 27 | 28 | 29 | 30 | 31 | 32 | 33 | 34 | 35 | 36 | 37 | 38 | 39 | 40 | 41 | 42 | 43 | 44 | 45 |

| 46 | 47 | 48 | 49 | 50 | 51 | 52 | 53 | 54 | 55 | 56 | 57 | 58 | 59 | 60 | 61 | 62 | 63 | 64 | 65 | 66 | Next >