Metal Detecting Research & Exploration - A Complete Guide, page 2
Map Research for Locating Treasure Hunting Sites in the US
If you would like to recommend this article to everyone, please click the button:
BASIC MAP COMPARISON
The principle of map research is simple: to obtain as many old maps of the same area as possible and compare them to the corresponding modern topo maps for changes detection (map analysis is described in more details on page 30).
To notice any changes, it is essential to know how to read both historical and modern topographical (topo) maps with full understanding of all information mapped.
Sometimes finding an old map is challenging, especially when you are looking for the early Colonial maps called plats. But even if you are lucky to find such a map, you still have to do a lot of deciphering the map's symbolic content.
Plats were not drawn to scale, and the details you might expect are not present on the early maps. The depictions of roads, terrain and land parcels are approximate at best.
The first large-scaled, i.e. more detailed, US maps of the townships were issued in the mid-1800s. They were called "Beer's Maps" or "Beer's Atlases." Such maps can be obtained at the County library, State Archives, or downloaded from the Internet. Beer's maps do not show the terrain but contain many important pieces of information that can be useful for map analysis and further research.
On the Beer's Map issued in 1854 (below), I marked the former homesteads, now cellar holes or just depressions inside the earth mounds, by pink dots. The still-existing houses are marked by blue-green dots.
A Fragment of Beer's Map Issued in 1854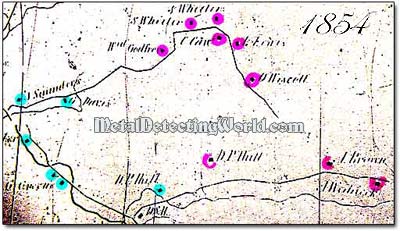 Though the Beer's maps do not show any geography, they are pretty accurate in mapping the homesteads and other man-made individual structures, including school houses, situated along the roadways. The curvatures and contours of roads shown on these maps surprisingly coincide with contours of the actual roadways on the Earth - this is incredibly helpful when you use the Map Overlay method for map analyzing (the method is described also on page 30 ).
Another helpful characteristic of the Beer's maps is that they show the correct values of distances between landmarks situated on the roadways. Back then, the distances were measured in rods, also known as "poles" or sometimes "perches," though a perch is equal to a square rod (1 square rod is 0.00625 acre). 1 rod equals to 16.5 feet and was once known as a "quarter-chain."
A Gunter's Chain was a linked measuring device 66 feet long, including handles on both ends. It was invented in 1620 by Edmund Gunter, an English mathematician: all road and land measurements were shown on maps in "chains" or their divisions - rods (1 chain = 66 feet = 22 yards = 4 rods = 100 links). A few people know why a mile should be 5,280 feet long; but if you multiply a chain by 80, you will soon find out (80 x 66 = 5,280).
Number of pages: < Previous | 1 | 2 | 3 | 4 | 5 | 6 | 7 | 8 | 9 | 10 | 11 | 12 | 13 | 14 | 15 | 16 | 17 | 18 | 19 | 20 | 21 | 22 | 23 |

| 24 | 25 | 26 | 27 | 28 | 29 | 30 | 31 | 32 | 33 | 34 | 35 | 36 | 37 | 38 | 39 | 40 | 41 | 42 | 43 | 44 | 45 |

| 46 | 47 | 48 | 49 | 50 | 51 | 52 | 53 | 54 | 55 | 56 | 57 | 58 | 59 | 60 | 61 | 62 | 63 | 64 | 65 | 66 | Next >