Metal Detecting Research & Exploration - A Complete Guide, page 33
Basic Map Analyzing Techniques
MAP COMPARISON - A TUTORIAL
Map comparison can be done either by means of the Map Overlay/Rectification method or without it. To get satisfactory results, it is essential to use as many historic maps of different map scales as possible. That would allow you to see both the long gradual changes and brief changes that had taken place in the area in focus during different periods of time.
The changes may include disappearing and reappearing of settlements, decrease or increase of a number of other structures, appearing and disappearing of various industries, and the man-made geographic changes in the landscape: area deforestation, disappearing of creeks and brooks, changes in river beds configuration, appearing of reclamation canals and disappearing of swamps, marshes and bogs as a result of reclamation, decrease or increase of a number of arable fields, meadows and pastures, etc.
Below is an example of basic map comparison accomplished with electronic map overlay and rectification. In this example, I am conducting neither distance calculations nor further research of potential metal detecting sites which were discovered during this procedure.
My first step is studying a modern topographic map of 1:50,000 scale and looking for the area with a highest number of "wasted ground" (deserted) parcels. I found five "wasted grounds" on my map. Each spot is marked only with a place name which includes an abbreviation "ур." = урочище = "wasted ground" and a geographical name. For example, "ур. Ласуны" = "wasted ground Lasuny."
Each place name only gives a general location of the site. In the past, it could be either former village or former field which was fertilized and used for hay harvesting or farming. I highlighted these spots with pink on my topo map. All five wasted grounds are located on the northern edge of Izhora plateau - an area with the most fertile soils in the region.
A Fragment of 1988 Topographic Map Showing Locations of "Wasted Grounds"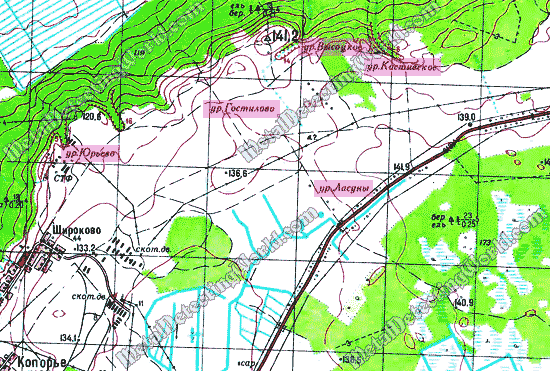 Number of pages: < Previous | 1 | 2 | 3 | 4 | 5 | 6 | 7 | 8 | 9 | 10 | 11 | 12 | 13 | 14 | 15 | 16 | 17 | 18 | 19 | 20 | 21 | 22 | 23 |

| 24 | 25 | 26 | 27 | 28 | 29 | 30 | 31 | 32 | 33 | 34 | 35 | 36 | 37 | 38 | 39 | 40 | 41 | 42 | 43 | 44 | 45 |

| 46 | 47 | 48 | 49 | 50 | 51 | 52 | 53 | 54 | 55 | 56 | 57 | 58 | 59 | 60 | 61 | 62 | 63 | 64 | 65 | 66 | Next >