Metal Detecting Research & Exploration - A Complete Guide, page 41
Using OziExplorer GPS Mapping Software for Locating Hunt Sites
MOVING MAP (Real Time Tracking)
Moving Map shows "real time" information as you travel. As OziExplorer is running in your laptop which is connected to your GPS, your immediate GPS position is plotted on the map providing real time tracking ability. When your GPS position "leaves" the map, OziExplorer automatically changes to the next map. Or even better, OziExplorer can search out the most detailed map for the area you are traversing if it is set to auto search for a more detailed map.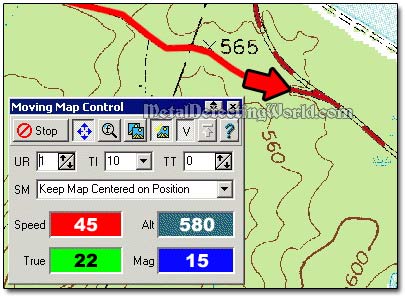 In Moving Map mode, through the navigation feature, OziExplorer will be your effective instrument for GPS navigating along the chosen route displaying speed, altitude and bearing. For convenience, your position will be shown in a separate Regional Map window. At the same time you can have a satellite view and GPS fix information. At night time, all screen colors can be turned into shades of red, gray or blue for better vision in darkness.
And you can assign certain instructions to each waypoint. OziExplorer will sound and show an alarm when a waypoint along the route is reached. For example, OziExplorer can sound and show an alarm when approaching an important waypoint or entering the Alarm Zone. Alarm Zones are polygons (multi-sided boxes) drawn onto the map.
Alarm zones are mainly used in the marine environment to mark underwater objects but may have uses during metal detecting outings, especially during scouting the area by car. You can assign an alarm to a waypoint for a hidden turn off the main route onto the abandoned trail, so you would not miss it. Up to 100 points can be used to form an alarm zone, and up to 50 alarm zones can be attached.
During navigation, various parameters such as Speed, Course, Next Waypoint, Distance, etc. are displayed.
SAVING YOUR TRIP DATA
Waypoints, routes and tracks created or collected by your GPS during your transects can be downloaded by OziExplorer and viewed on the map.
By using the tools built into OziExplorer, you can edit this obtained data and save it to your hard disk for future use.
You will be able to save your footwork and 4WD tracks or the waypoints locating your best detecting hunt spots. With interface to GIS systems, you can collect data in the field for later use in GIS software.
Postscript
The number of metal detectorists who use the modern mapping software for navigation is growing, but there will always be the "die-hard's" - the old school treasure hunters, who solely rely on their developed abilities, skills and old good paper maps. I am one of them even though I have used the OziExplorer on some occasions during the joint metal detecting outings with other comrades. Yes, this software makes a huge difference, but there are some negative nuances in using it.
For example, one cannot rely 100% on electronic gadgets without knowing what to do in case these gadgets stop functioning. I have seen detectorists turning into helpless and "unhappy campers" in situations when electronics fail. So try to develop your skills in map and terrain reading, navigating, and observation before having fun with modern technology. All combined will bring you the best results!
If you would like to recommend this article to everyone, please click the button:
Number of pages: < Previous | 1 | 2 | 3 | 4 | 5 | 6 | 7 | 8 | 9 | 10 | 11 | 12 | 13 | 14 | 15 | 16 | 17 | 18 | 19 | 20 | 21 | 22 | 23 |

| 24 | 25 | 26 | 27 | 28 | 29 | 30 | 31 | 32 | 33 | 34 | 35 | 36 | 37 | 38 | 39 | 40 | 41 | 42 | 43 | 44 | 45 |

| 46 | 47 | 48 | 49 | 50 | 51 | 52 | 53 | 54 | 55 | 56 | 57 | 58 | 59 | 60 | 61 | 62 | 63 | 64 | 65 | 66 | Next >