Metal Detecting Research & Exploration - A Complete Guide, page 18
Map Research for Locating Metal Detecting Sites in Europe
IMPORTANT SPECIFICS
7. Map Orientation According to North and South Directions
Some old maps, especially the 18th century maps, might be drawn not according to a universal custom: north is at the top, west to the left, and south at the bottom of the map. A few times, I had to turn the map 90° clockwise or counter-clockwise to align it with directions, otherwise nothing would make sense. An example below illustrates that the 1700 map was drawn at 45° to the line of North-South directions.
This Map Was Not Drawn According to A Universal Custom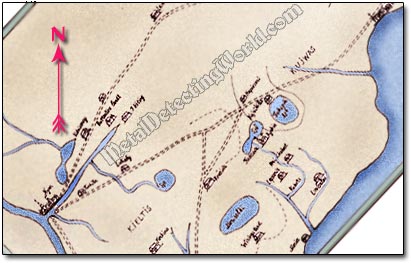 When you are using any map of the early Modern Period for your map research, make sure that the north direction is oriented at the top, south at the bottom. Always look for a Wind Rose or North Arrow usually drawn on the map if the North-South direction is not intentionally maintained on a map.
This 1688 Swedish Map Shows a Wind Rose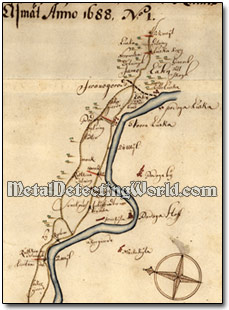 If the map still does not "connect" to the area of the same name, find the major waterways in the area and rotate the map until their configuration matches the waterways' configuration on a topo or any other map. Other types of reference points that can be employed include road junctions, stream confluences, closed contour summits, and other recognizable landscape features.
Number of pages: < Previous | 1 | 2 | 3 | 4 | 5 | 6 | 7 | 8 | 9 | 10 | 11 | 12 | 13 | 14 | 15 | 16 | 17 | 18 | 19 | 20 | 21 | 22 | 23 |

| 24 | 25 | 26 | 27 | 28 | 29 | 30 | 31 | 32 | 33 | 34 | 35 | 36 | 37 | 38 | 39 | 40 | 41 | 42 | 43 | 44 | 45 |

| 46 | 47 | 48 | 49 | 50 | 51 | 52 | 53 | 54 | 55 | 56 | 57 | 58 | 59 | 60 | 61 | 62 | 63 | 64 | 65 | 66 | Next >