Metal Detecting Research & Exploration - A Complete Guide, page 57
Footwork & Observation
SPOTTING OTHER MAN-MADE FEATURES - Bridge Remains, Ramparts, Moats
(CONTINUED from Page 56)
Remains of small bridges appear in various forms. A few times, I discovered old stone piers built without cement on both sides of the creek at the point of crossing with an abandoned road. Another time, I came to the bridge remains - modern iron rails, which were added to the 300-year-old old bridge structure before it was abandoned and eventually collapsed into the creek.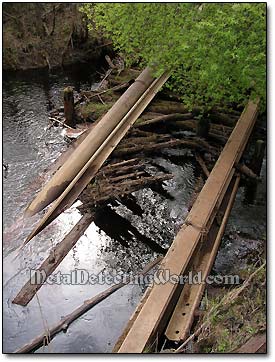 In any case, the remaining bridge embankments on both sides of the creek should be searched. Many cool finds have been recovered at those spots.
Signet Ring, ca. 15th-16th Century, Recovered from Bridge Earth Embankment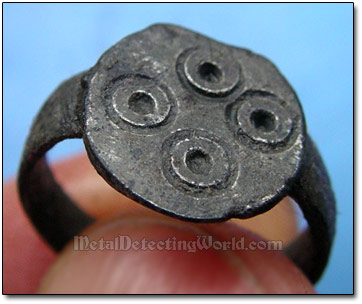 Areas near bridge remains on both sides should be also searched. A picture below depicts five large cents which I recovered around a big first-growth tree situated near a spot where a small bridge used to be. One can assume that in the past people would be resting in a shade of this tree while horses were drinking water from the brook (more info on metal detecting sites near waterways is on page 51).
Large Cents Found at the Site of Former Small Bridge, Upstate New York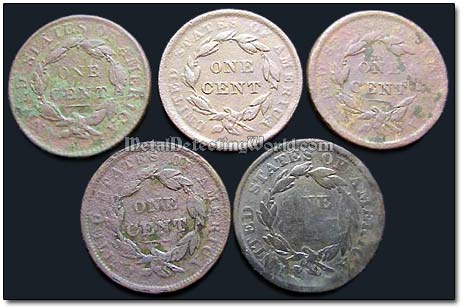 Ramparts and moats are great indicators of sites of former large fortified settlements or promontory hillforts that used to be accompanied by one or two villages (satellite settlements). So if you are lucky to discover a rampart and a moat (they usually come together) in the forest or on a field, you will be continuously metal detecting at this site at least for a month if your metal detector is capable of detecting the deepest targets.
Ramparts can be distinguished from natural relief features by their uniform height (from two to four meters) running their entire length and by their linear or semi-circular shapes. The moats usually do not survive in farm fields where any ditch normally would have been filled. In forests, the moats are preserved and may be camouflaged a little by undergrowth and small and fallen trees.
A Rampart with Ditch Located in Wooded Area

The moats or ditches should be always thoroughly searched as they also may contain many interesting medieval finds of all kinds.
A Blade of Medieval Bi-Metallic Knife, Recovered in a Dry Moat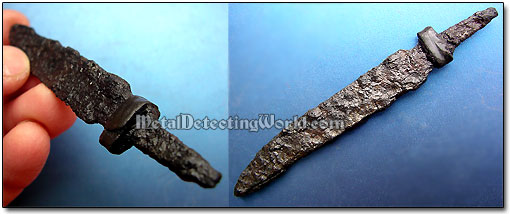 Number of pages: < Previous | 1 | 2 | 3 | 4 | 5 | 6 | 7 | 8 | 9 | 10 | 11 | 12 | 13 | 14 | 15 | 16 | 17 | 18 | 19 | 20 | 21 | 22 | 23 |

| 24 | 25 | 26 | 27 | 28 | 29 | 30 | 31 | 32 | 33 | 34 | 35 | 36 | 37 | 38 | 39 | 40 | 41 | 42 | 43 | 44 | 45 |

| 46 | 47 | 48 | 49 | 50 | 51 | 52 | 53 | 54 | 55 | 56 | 57 | 58 | 59 | 60 | 61 | 62 | 63 | 64 | 65 | 66 | Next >