Metal Detecting Research & Exploration - A Complete Guide, page 12
Map Research for Locating Treasure Hunting Sites in Europe
IMPORTANT SPECIFICS
2. Settlements that Disappeared by the 19th Century
During ten centuries of warfare, many settlements in the eastern Baltic Sea region continuously suffered devastation caused by the fighting armies. Some villages had disappeared from the earth's face forever. Also a large number of villages were abandoned due to plague, fires, the introduction of crop rotation, crop failures resulting in massive famine, the growth of large villages and towns, natural disasters and climate change related to the Little Ice Age - a period extending from the 16th to the 19th centuries. The disappearance of some villages was related to deliberate clearances and movements of the inhabitants to more prosperous districts.
Some of the destroyed or abandoned villages were soon re-settled and re-populated, especially those which had fertile lands. Other villages were never repopulated and generally left a few visible traces. Villages that disappeared during the Early Modern Times sometimes left behind a church or manor house and sometimes nothing but "bumps in the fields."
Site of the Village Disappeared by 1800s

Nowadays, when some regional treasure hunters prefer not to bother with modern junk and the 19th century coins, they focus only on the sites of villages that had disappeared by the 1800s. While researching such a site, it is important to determine when this particular settlement came to existence, when it became depopulated, and what possibly could cause its abandonment or disappearance - an invaluable information for treasure hunting research.
Some of the 17th-18th century historic maps can provide this information! They show many small land parcels outlined in various rectangular shapes and colored in different colors. For some time, these areas had witnessed some human activity before it started decreasing and stopped altogether. After these parcels finally became just empty and deserted spots, they were called "wasted grounds." On a map, each wasted ground is marked with a number which corresponds to a short description in a book called Economic Notes To A Map of the district for which the map was issued.
A Fragment of Map Showing Numbered "Wasted Grounds" and Villages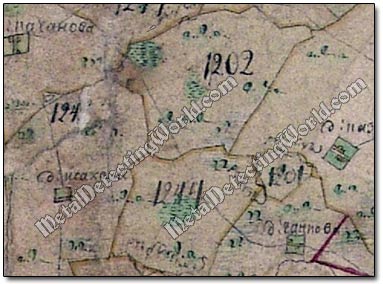 Each wasted ground's description includes a valuable information: the names of all former and current land owners, the name of a village if it existed here, and a list of human activities that had taken place at this spot before the spot turned into just a plat overgrown with wild grass or forest.
Economic Notes to 1698 Swedish Map with Description of Wasted Land Parcel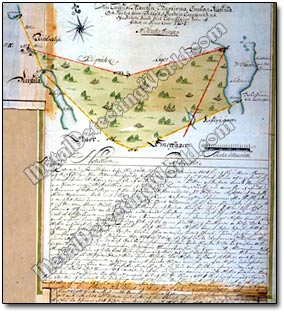 An Excerpt from Economic Notes to Map Describing the History of Wasted Land Parcel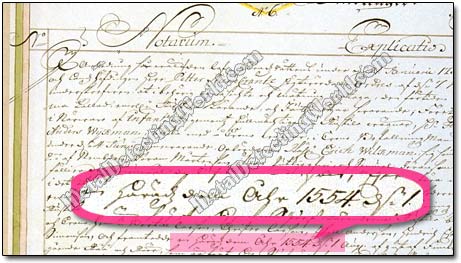 Almost each map of a large scale (100m in 1cm) had a book of Economic Notes accompanying it, but many of these books have been lost over time, and finding such a book at some regional archives is a great luck. Simply if the map does not have the numbered spots, then the corresponding and descriptive Economic Notes Book does not exist.
Number of pages: < Previous | 1 | 2 | 3 | 4 | 5 | 6 | 7 | 8 | 9 | 10 | 11 | 12 | 13 | 14 | 15 | 16 | 17 | 18 | 19 | 20 | 21 | 22 | 23 |

| 24 | 25 | 26 | 27 | 28 | 29 | 30 | 31 | 32 | 33 | 34 | 35 | 36 | 37 | 38 | 39 | 40 | 41 | 42 | 43 | 44 | 45 |

| 46 | 47 | 48 | 49 | 50 | 51 | 52 | 53 | 54 | 55 | 56 | 57 | 58 | 59 | 60 | 61 | 62 | 63 | 64 | 65 | 66 | Next >