Metal Detecting Research & Exploration - A Complete Guide, page 49
Footwork & Observation
ATYPICAL & INHERENT VEGETATION AND PLANTS MARK FORMER HOMESTEAD SITES
When far within wooded areas, notice low-level vegetation and tree types growing in the area. Look for atypical trees such as apple, pear, cherry and chestnut, and bushes such as forsythia, rose and lilac. They all stand out among the forest vegetation in times of blossom and fruit bearing.
Another vegetation clue to locating cellar holes or root cellars is a dense ground cover called "myrtle" or "periwinkle." It has waxy green leaves with white or blue colored flowers when in bloom. It looks like an emerald carpet from a distance.
Garden Vegetation around a Grave Stone at the Abandoned Cemetery in the Woods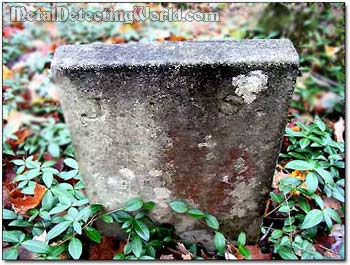 But the most common, at least in the New England area, and characteristic vegetation used for pinpointing homestead sites in the remote wooded areas is Tawny Daylily Hemerocallis, colloquially called Lemon Lily. Daylilies occur as a clump identified by the long and very narrow lanceolate leaves that are grouped into flat fans with leaves arching out to both sides. Daylilies bloom with large showy flowers of white, yellow or orange color.
Daylilies are not true lilies. They were early imports from England to 17th century American gardens and soon established themselves. Tawny Daylily is also called Roadside or Railroad Daylily, and gained the nickname Wash-house or Outhouse Lily because it was frequently planted at such buildings.
Daylilies can grow in the USDA plant hardiness zones 1 through 11 - their heat- and drought-resistance made them some of the most adaptable landscape plants. That is why they were garden standbys not only through the colonial period, from 1600 to 1775, but well into 1920s. There are over 60,000 registered types of Daylily nowadays.
The Best Clue - Low-level Vegetation - Leaves of Daylilies, for Locating Cellar Holes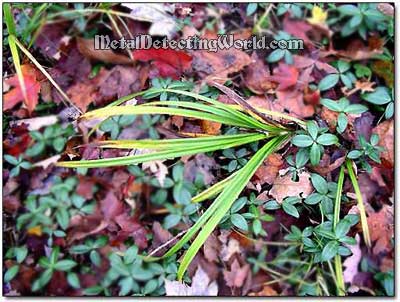 The raspberry shrubs (Rubus Idaeus - with red fruit) are also great indicators of the former dwelling's presence. Because raspberries are perennial (they live for more than two years), very vigorous and can be locally invasive, they spread well and can take over gardens if left unchecked. This is why raspberries can be still found growing at the abandoned sites of human dwellings in the wilderness.
Branch of Raspberry Shrub at Hunt Site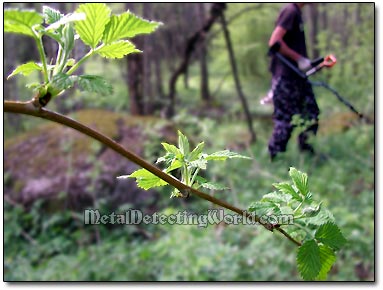 Wild Raspberries Are Delicious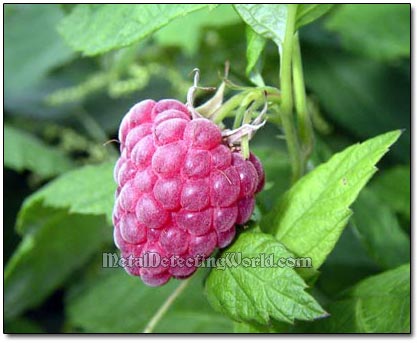 Number of pages: < Previous | 1 | 2 | 3 | 4 | 5 | 6 | 7 | 8 | 9 | 10 | 11 | 12 | 13 | 14 | 15 | 16 | 17 | 18 | 19 | 20 | 21 | 22 | 23 |

| 24 | 25 | 26 | 27 | 28 | 29 | 30 | 31 | 32 | 33 | 34 | 35 | 36 | 37 | 38 | 39 | 40 | 41 | 42 | 43 | 44 | 45 |

| 46 | 47 | 48 | 49 | 50 | 51 | 52 | 53 | 54 | 55 | 56 | 57 | 58 | 59 | 60 | 61 | 62 | 63 | 64 | 65 | 66 | Next >