Metal Detecting Research & Exploration - A Complete Guide, page 19
Research for Locating Hunt Sites in Europe
IMPORTANT SPECIFICS
8. Dealing with Hunt Sites Infested with WW1 and WW2 Military Junk
Because of the military actions during the World War I and more intense warfare during World War II, most of Eastern Europe is littered with military relics and junk. At sites that happened to be on the frontlines during WW2, metal detecting old coins and relics is almost impossible because these locations are loaded with military artifacts - both ferrous and nonferrous objects.
A Pile of WW2 Junk Items Dug Up at Hunt Sites Situated near WW2 German Trenches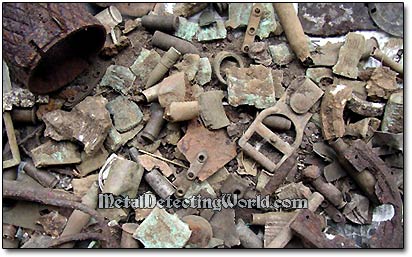 While numerous small junk items such as brass cartridge-cases or brass casing, brass and iron splinters, shrapnel, bullets may just be a nuisance to you, the bigger junk objects such as unexploded artillery projectiles, mines, grenades and propelled grenades - all that is called UXO (Unexploded Ordnance), may hold latent dangers to you and your companions.
An Unexploded Propelled Grenade Found at Medieval Hunt Site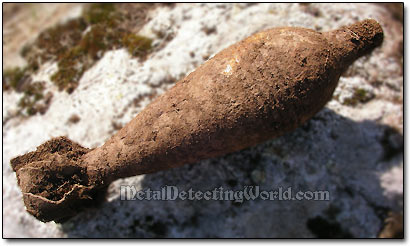 The hobby of metal detecting is so diverse that the saying - "one man's junk is another man's treasure," perfectly fits into a situation that may occur at the hunt site littered with military junk items. To get to the older layers of coins and relics, one has to clear the upper layer loaded with iron pieces of WW2 ordnance that would mask anything buried below it (you can read about it in my story - Metal Detecting in Estonia).
While a coin hunter would have a "grand pain in one place" detecting at this spot, any European WW2 relic hunter would consider this location a treasure site that could provide many hours of relic hunting fun.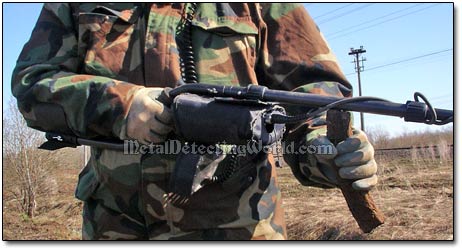 Here is another scenario. The WW2 map studying confirms that no fierce WW2 battles took place at a particular site. Other research confirms the age of an old settlement that existed at this location until the 18th century. Now you know that this is potentially a great metal detecting site because there would not be any modern junk present in the ground.
But when you arrive at the spot and search, you suddenly face a tip of an artillery projectile pointing at you from the hole. It usually happens unexpectedly as the excitement of digging up old coins and relics makes you forget about the dormant WW2 dangers remaining underground.
In my cache hunting experience, I got surprised and frightened a few times when I discovered an unfired artillery projectile or a land mine while believing I was digging up something valuable. These episodes taught me a good lesson: keep your cool no matter how many exciting finds you recover at the site and watch out for the unexploded WW2 ordnance.
An Unexploded Artillery Projectile I Dug Up at Hunt Site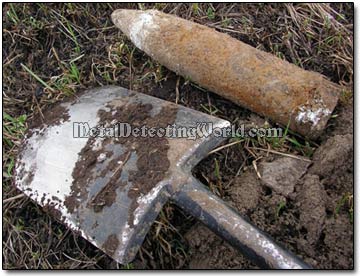 If you would like to recommend this article to everyone, please click the button:
Number of pages: < Previous | 1 | 2 | 3 | 4 | 5 | 6 | 7 | 8 | 9 | 10 | 11 | 12 | 13 | 14 | 15 | 16 | 17 | 18 | 19 | 20 | 21 | 22 | 23 |

| 24 | 25 | 26 | 27 | 28 | 29 | 30 | 31 | 32 | 33 | 34 | 35 | 36 | 37 | 38 | 39 | 40 | 41 | 42 | 43 | 44 | 45 |

| 46 | 47 | 48 | 49 | 50 | 51 | 52 | 53 | 54 | 55 | 56 | 57 | 58 | 59 | 60 | 61 | 62 | 63 | 64 | 65 | 66 | Next >