Metal Detecting Research & Exploration - A Complete Guide, page 16
Map Research for Locating Metal Detecting Sites in Europe
IMPORTANT SPECIFICS
(CONTINUED from Page 15)
Geographical maps were drawn usually with a scale 1:50,000 and covered the counties, parishes, townships and districts. In 1687, under Carl Gripenhielm - the Director General of the Swedish National Land Survey at that time, geographic mapping flourished with the production of road maps and provincial maps.
A Fragment of Swedish Geographic Map, circa 1600s, Showing Settlements and Churches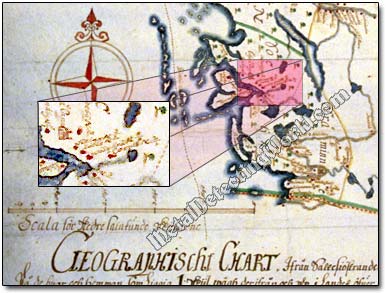 Gripenhielm issued an instruction for geographic maps and how to symbolize near 90 different features, some of which - cartographic symbols and legends, are usually shown in the Description Notes chart which is similar to Notarum Explicatio but called Notarum Descriptio.
Notarum Descriptio Showing Symbols Used on Geographic Maps of 17th Century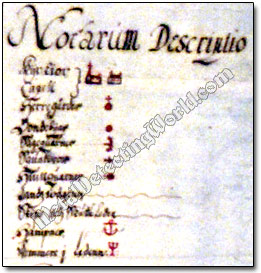 All the Land Register books mentioned above are certainly the best sources of useful historical information needed for map research. However, they are not always easy to find on the web.
Number of pages: < Previous | 1 | 2 | 3 | 4 | 5 | 6 | 7 | 8 | 9 | 10 | 11 | 12 | 13 | 14 | 15 | 16 | 17 | 18 | 19 | 20 | 21 | 22 | 23 |

| 24 | 25 | 26 | 27 | 28 | 29 | 30 | 31 | 32 | 33 | 34 | 35 | 36 | 37 | 38 | 39 | 40 | 41 | 42 | 43 | 44 | 45 |

| 46 | 47 | 48 | 49 | 50 | 51 | 52 | 53 | 54 | 55 | 56 | 57 | 58 | 59 | 60 | 61 | 62 | 63 | 64 | 65 | 66 | Next >