Metal Detecting Research & Exploration - A Complete Guide, page 38
Using OziExplorer GPS Mapping Software for Locating Hunt Sites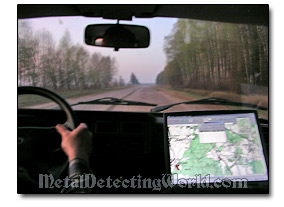 The scope of this article is only to introduce you to the most popular mapping software which incredibly reduces the time spent for navigating through remote areas while traveling to/from the metal detecting locations and pinpointing the hunt sites on the ground.
OziExplorer is an interactive mapping software which allows you to work, on your laptop or PC with digital maps that you have purchased or scanned yourself. By using OziExplorer you can plan your trip by creating waypoints, routes and tracks on screen and upload this data to your GPS. As a real time navigation aid, OziExplorer is ideal for planning your footwork research and locating hunt sites during metal detecting outings.
OziExplorer has a large number of features, and there are numerous sites explaining them and "how-to's" in details. In this article, I would like to mention only features that are directly involved in navigating with geo-referenced maps.
MAP CALIBRATION (Geo-Referencing)
In order to use a map for real time navigation (tracking) with OziExplorer, your digital map (scanned or obtained on the web) has to be calibrated (geo-referenced or geocoded). When you scan your own map or have a digital map which is not calibrated, you can use the OziExplorer's built-in map calibration.
The registered version of OziExplorer allows you to use 9 calibration points. The unregistered version is limited to using 2 calibration points. OziExplorer has a zoom window with crosshairs to assist manual calibrations, so you can exactly position calibration points or position other objects on your map. This is very helpful when calibrating old maps.
OziExplorer uses maps in the following formats:
1) Standard Image formats:
BMP - the only format supported in the shareware/demo version.
These formats below can only be used in the registered version of OziExplorer:
TIF - The TIF format has many different variations and compression schemes which can be used. 8bit or 24bit color images are supported.
PNG - This format gives good compression but the image must be decompressed and fully loaded into RAM (it cannot be paged from disk). This is the preferred "non-paging" format to use. 8bit or 24bit color images are supported.
JPG, JPEG - Provides excellent compression but the fully uncompressed image must be loaded into RAM (non-paging), not recommended for use with large images.
If the files have to be converted before importing them into OziExplorer CE, use the Img2ozf converter.
2) Proprietary formats:
BSB/BSB4/BSB5 - formats developed specifically for mapping, gives good compression and the image can be paged from disk. BSB format cannot be written by the user.
MrSID - this format gives high compression. If the SID image file is supplied with a (.SDW) file, OziExplorer can use it for geo-referencing.
ECW - this format gives good compression. Geo-referencing information can be read direct from the file.
RIK - this format supports Swedish RIK maps (module purchased separately).
KOMPASS - this format supports Kompass digital maps.
Maptech (.024,.100,.250) maps - Terrain Navigator maps produced by Maptech.
Maptech (.AER) charts - Aeronautical charts produced by Maptech.
Maptech PCX (.HDR,.A01,.A02....) - An older format produced by Maptech but still in use.
Maptech Superdisk Format (.RML) - Similar to the PCX format above but the images are compressed.
3) OziExplorer and OziExplorerCE formats:
OZF2, OZFx3 - This format gives good compression, can be paged from disk, is efficient for decompression of small image sections, and gives smooth zoom images below 100% which look almost as good as the original image. The OZFx3 format stores the image in tiles, each tile can be manipulated as a single unit; small memory is required for loading.
Number of pages: < Previous | 1 | 2 | 3 | 4 | 5 | 6 | 7 | 8 | 9 | 10 | 11 | 12 | 13 | 14 | 15 | 16 | 17 | 18 | 19 | 20 | 21 | 22 | 23 |

| 24 | 25 | 26 | 27 | 28 | 29 | 30 | 31 | 32 | 33 | 34 | 35 | 36 | 37 | 38 | 39 | 40 | 41 | 42 | 43 | 44 | 45 |

| 46 | 47 | 48 | 49 | 50 | 51 | 52 | 53 | 54 | 55 | 56 | 57 | 58 | 59 | 60 | 61 | 62 | 63 | 64 | 65 | 66 | Next >