Metal Detecting Research & Exploration - A Complete Guide, page 32
Basic Map Analyzing Techniques
MAP RECTIFICATION
Surveying technology has progressed since 1600s, so the geometry of the old maps is not the same as the geometry of today's maps. This means that although it is the same area that has been mapped, the old version of the area does not really fit into today's map.
The following are the main geometric errors that exist on historic maps: 1) distance error between two points, 2) angular displacement (a part of the map is in error angle to another part), and 3) scale deviation. Rectification is a means of correcting the geometric errors and finding matching points between maps.
Rectification can be done in two ways:
1) Non-Precise Rectification: you can do it manually in the most primitive way by using the graphic editor for map overlay procedure shown on previous page. For instance, the Photoshop provides all necessary features to be used for stretching, squeezing or warping the image. But, of course, doing map rectification manually can be very erroneous.
2) Precise Rectification: you can automatically rectify a historic map by using a specific software such as JOSM - a plugin for the OpenStreetMap editing application that allows you to use Web Map Service (WMS) and in particular, Metacarta's Map Rectifier. Or any other similar applications available on the web.
This web-based map rectification tool, which is available now for public use, helps non-GIS professionals associate their images with places in the real world. The service will allow you to upload an image, and using a reference map, you can select ground control points (GCPs), also known as tie points, tick points, conjugate points - points from the reference map which match up to the uploaded image, and then warp the image.
Web-Based Map Rectifier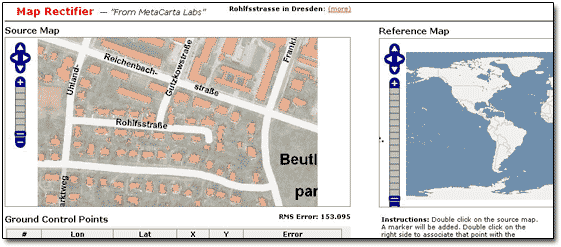 You can use any of a number of default base maps to reference against, or add your own WMS or KaMap layers to the map and use them to find ground control points. With this tool, you can georectify the historic maps that you have taken snapshots of with a digital camera.
The service is available from http://labs.metacarta.com/rectifier/ (copy and paste the link into your browser window) or other places on the web. Out of a few, the NYPL (New York Public Library) Map Rectifier is another tool for digitally aligning historical maps from the NYPL's collections to match today's precise maps. The service is available from http://maps.nypl.org/warper/ (copy and paste the link into your browser window) or many other places on the web.
Map Rectifier must be used if you need to georeference historic maps to be used with OziExplorer mapping software for locating new metal detecting sites.
Number of pages: < Previous | 1 | 2 | 3 | 4 | 5 | 6 | 7 | 8 | 9 | 10 | 11 | 12 | 13 | 14 | 15 | 16 | 17 | 18 | 19 | 20 | 21 | 22 | 23 |

| 24 | 25 | 26 | 27 | 28 | 29 | 30 | 31 | 32 | 33 | 34 | 35 | 36 | 37 | 38 | 39 | 40 | 41 | 42 | 43 | 44 | 45 |

| 46 | 47 | 48 | 49 | 50 | 51 | 52 | 53 | 54 | 55 | 56 | 57 | 58 | 59 | 60 | 61 | 62 | 63 | 64 | 65 | 66 | Next >