Metal Detecting Research & Exploration - A Complete Guide, page 45
Footwork & Observation
FOLLOWING DEER TRAILS TO HUNT SITES
It is important to add that the deer trails are sometimes the only helpful clues to locating a remote homestead site in the woods. Surprisingly, after 200 years since the homestead was abandoned and disappeared, the deer, out of habit that has been developed over many deer generations, would still come to the site to snack on fruits and other edible vegetation which has survived the time. Just like in deer hunting, following a deer trail may bring you to a nice hunt site!
Deer Trail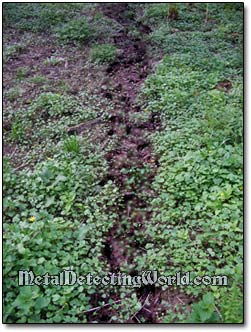 Deer trails usually are not clear visible on the forest floor and look like narrow trails. If you have never seen them, next time you come across a few apple trees growing in the wilderness, walk around them and you sure will spot one or two deer trails. (If you follow them, you might get to the next site with a cellar hole!)
Tracks of other wild animals such as boars, foxes, bobcats, elks, etc. may be seen on deer trails. Tracks are easier to read moving uphill.
Hoof Print on Animal Trail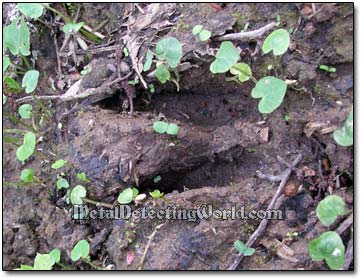 Number of pages: < Previous | 1 | 2 | 3 | 4 | 5 | 6 | 7 | 8 | 9 | 10 | 11 | 12 | 13 | 14 | 15 | 16 | 17 | 18 | 19 | 20 | 21 | 22 | 23 |

| 24 | 25 | 26 | 27 | 28 | 29 | 30 | 31 | 32 | 33 | 34 | 35 | 36 | 37 | 38 | 39 | 40 | 41 | 42 | 43 | 44 | 45 |

| 46 | 47 | 48 | 49 | 50 | 51 | 52 | 53 | 54 | 55 | 56 | 57 | 58 | 59 | 60 | 61 | 62 | 63 | 64 | 65 | 66 | Next >