US Statehood Quarters of 2004:
Michigan, Florida, Texas, Iowa, Wisconsin
Numismatic and Historic Info, Images
Coins' Specifics:
Diameter: 24.3 mm
Weight: 5.67 grams
Edge: Reeded
Composition: outer layers of copper-nickel (.750 copper, .250 nickel) bonded to inner core of pure copper
Quantity minted: 2,401,600,000
Mints: Philadelphia, Denver, San Francisco
MICHIGAN STATE QUARTER
On January 26, 1837, Michigan became the 26th state to be admitted into the Union. The Michigan quarter depicts the outline of the State and the Great Lakes system. The quarter is inscribed "Great Lakes State."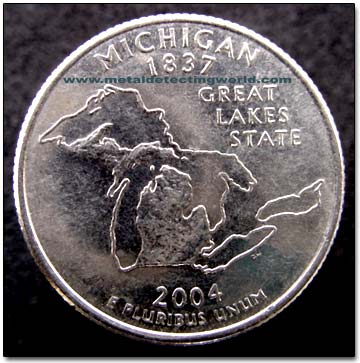 Much of Michigan's history is tied to the Great Lakes - Superior, Michigan, Huron, Erie and Ontario. These are five of the world's largest lakes that, together, encompass more than 38,000 square miles and form the largest body of fresh water in the world. To assist in navigating, Michigan has 116 lighthouses and navigational lights.
Release Date: January 26, 2004
Statehood Date: January 26, 1837
Mintage Numbers: 459,600,000
FLORIDA STATE QUARTER
On March 3, 1845, Florida became the 27th state to be admitted into the Union. The design incorporates a 16th-century Spanish galleon, a space shuttle and the inscription "Gateway to Discovery." A strip of land with Sabal palm trees is also depicted.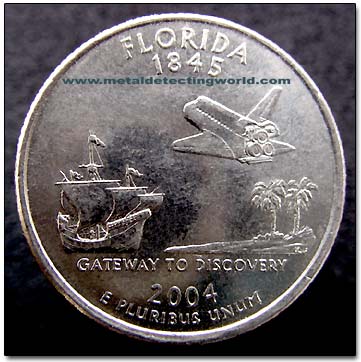 On Easter in 1513, while searching for the legendary Fountain of Youth, Ponce de Leon named the region "Pascua Florida," meaning "Flowery Easter." In 1539, Hernando de Soto and other explorers continued the exploration of the New World through the region.
Florida, home to the Kennedy Space Center, has been the starting point for most of the modern era's most significant scientific space expeditions. From 16th-century Spanish galleons to 21st-century space exploration, Florida has played a continuing role in humanity's quest for knowledge and discovery. With the highest average temperature of any state, and the second longest shoreline, Florida is one of the world's most popular tourist destinations.
Release Date: March 29, 2004
Statehood Date: March 03, 1845
Mintage Numbers: 481,800,000
TEXAS STATE QUARTER
On December 29, 1845, Texas became the 28th state to be admitted into the Union. The quarter's reverse design incorporates an outline of the State with a star superimposed on the outline and the inscription, "The Lone Star State." The lariat encircling the design is symbolic of the cattle and cowboy history of Texas, as well as the frontier spirit that tamed the land.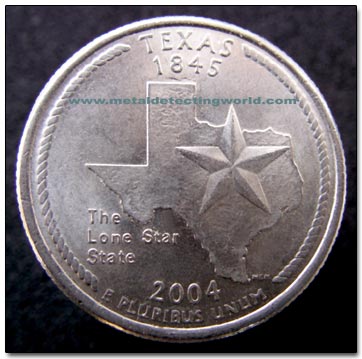 Texas comes from the Indian word "tejas," meaning friends or allies, and appropriately Texas's motto is "Friendship." Probably the two most recognized symbols of Texas are its unique shape and the lone star that is represented on the State flag. The Texas flag design was approved in 1839 to symbolize the Republic of Texas and was adopted as the State flag in 1845. The simple design of a lone star and three bold stripes of red, white and blue represent bravery, purity and loyalty, respectively. Texas is the only state to have had six different flags fly over its land - Spain, France, Mexico, Republic of Texas, Confederate States of America and the United States of America.
Release Date: June 01, 2004
Statehood Date: December 29, 1845
Mintage Numbers: 541,800,000
IOWA STATE QUARTER
On December 28, 1846, Iowa became the 29th state to be admitted into the Union. The Iowa quarter design features a one-room schoolhouse with a teacher and students planting a tree, and the inscriptions "Foundation in Education" and "Grant Wood." The design is based on "Arbor Day," a painting by Grant Wood, who was born near Anamosa, Iowa. He spent his career as a proponent of small-town values, which he celebrated in the iconic images of small-town plain folk and verdant Midwestern vistas for which he is world-renowned.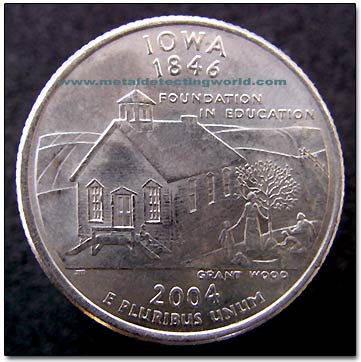 Iowans have had a commitment to education since the State's earliest days. When Iowa became a state in 1846, it already had a number of rural country schools in each of its counties. Iowa established its first high school in the 1850s, although high schools generally did not become widespread in the United States until after 1900. Private and public colleges also quickly took root in the new State. Although Iowa has long been a leader in agriculture, the State is unique in that it is the only one whose east and west borders are completely formed by rivers - the Mississippi and Missouri Rivers.
Release Date: August 30, 2004
Statehood Date: December 28, 1846
Mintage Numbers: 465,200,000
WISCONSIN STATE QUARTER
On May 29, 1848, Wisconsin became the 30th state to be admitted into the Union. The Wisconsin design depicts an agricultural theme featuring a cow, a round of cheese and an ear of corn. The design also bears an inscription of the State motto, "Forward."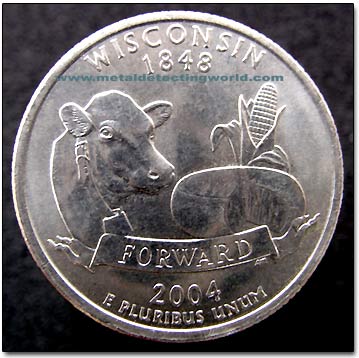 Wisconsin adopted the State motto, "Forward," in 1851, reflecting Wisconsin's continuous drive to be a national leader. Wisconsin is considered "America's Dairy Land" with production of over 15 percent of the Nation's milk. Wisconsin also produces over 350 different varieties, types and styles of award-winning cheeses – more than any other state. There are approximately 17,000 dairy farms, with just over one million cows that produce an average of 17,306 gallons of milk each, per year.
Wisconsin is also a major corn-growing state. In 2002, Wisconsin led the Nation in corn silage production and, with 391.5 million bushels produced, it ranked fifth in the production of corn for grain (shelled corn). State corn production contributed $882.4 million to the Wisconsin economy in 2003. Wisconsin is also a leading supplier of mint.
Release Date: October 25, 2004
Statehood Date: May 29, 1848
Mintage Numbers: 453,200,000
Total of state quarters minted in 2004: 2,401,600,000
Year of issuance - | 1999 | 2000 | 2001 | 2002 | 2003 | 2004 | 2005 | 2006 | 2007 | 2008 |
Back to US Quarters Page 3 | Numismatic Corner | US Coins Page | Coin Photo Galleries | MetalDetectingWorld Home
Sources: Encyclopedia Of U.S. Coins by Mort Reed and The Official Red Book of United States Coins by R.S. Yeoman.