US Statehood Quarters of 2003:
Illinois, Alabama, Maine, Missouri, Arkansas
Numismatic and Historic Info, Images
Coins' Specifics:
Diameter: 24.3 mm
Weight: 5.67 grams
Edge: Reeded
Composition: outer layers of copper-nickel (.750 copper, .250 nickel) bonded to inner core of pure copper
Quantity minted: 2,280,400,000
Mints: Philadelphia, Denver, San Francisco
ILLINOIS STATE QUARTER
The Illinois quarter design depicts a young Abraham Lincoln within the outline of the state. A farm scene and the Chicago skyline appear on the left and to the right of the state's outline. Twenty-one stars border the coin, signifying Illinois as the 21st state to be admitted into the Union on December 3, 1818.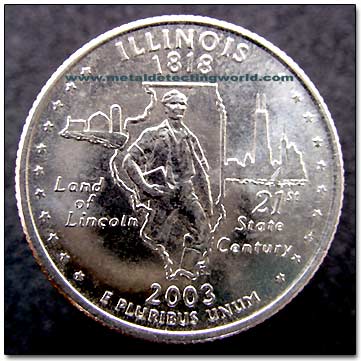 "The Prairie State," also commonly known as the "Land of Lincoln," pays tribute to the nation's 16th president. The young Lincoln lived and practiced law in Springfield before becoming one of our nation's greatest leaders. President Lincoln's historic home, burial site and new presidential library are all located in the Springfield area.
Release Date: January 02, 2003
Statehood Date: December 03, 1818
Mintage Numbers: 463,200,000
ALABAMA STATE QUARTER
Alabama became the 22nd state to be admitted into the Union on December 14, 1819. The Alabama quarter design features an image of Helen Keller with her name in English, and in a reduced-size version of braille. The Alabama quarter is the first U.S. circulating coin to feature braille. An Alabama long leaf pine branch and magnolias grace the sides of the design, and a "Spirit of Courage" banner underlines the central image.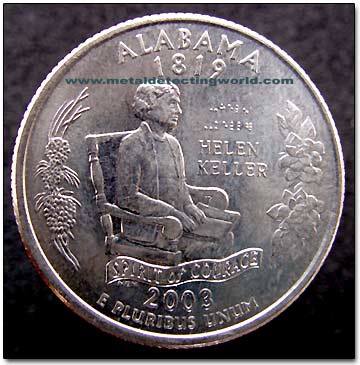 Helen Keller was born at "Ivy Green" in Tuscumbia, Alabama, in 1880. When she was a small child, an illness destroyed her sight and hearing and, consequently, depriving her of the senses by which we normally learn to speak. Despite her disabilities, Helen Keller learned to speak and read using the raised and manual alphabets, as well as Braille. Helen Keller lived out her life addressing social issues for disabled persons and women. Every year at "Ivy Green," a weeklong celebration is held to commemorate her lifetime of accomplishments and her "Spirit of Courage."
Release Date: March 17, 2003
Statehood Date: December 14, 1819
Mintage Numbers: 457,400,000
MAINE STATE QUARTER
Maine became the 23rd state to be admitted into the Union, as part of the Missouri Compromise on March 15, 1820. The Maine quarter design incorporates a rendition of the Pemaquid Point Light atop a granite coast and of a schooner at sea.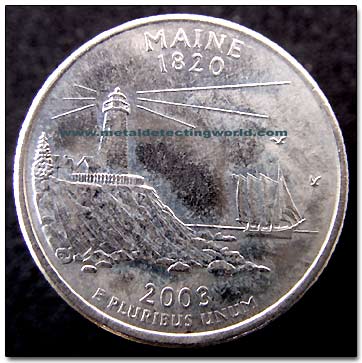 Pemaquid Point Light is located in New Harbor, and marks the entrance to Muscongus Bay and Johns Bay. Since the beginning of ship activity in the area, a shoal created hazardous navigation conditions, causing many shipwrecks. As maritime trade increased in the area, so did the need for a lighthouse. In 1826, Congress appropriated funds to build a lighthouse at Pemaquid Point. Although the original building was replaced in 1835, and the original 10 lamps in 1856, the light is still a beacon for ships and remains one of Maine's most popular tourist attractions. The schooner resembles "Victory Chimes, " the last three-masted schooner of the Windjammer Fleet. "Victory Chimes" has become synonymous with Maine windjamming.
Release Date: June 02, 2003
Statehood Date: March 15, 1820
Mintage Numbers: 448,800,000
MISSOURI STATE QUARTER
Missouri became the 24th state on August 10, 1821, as a part of the Missouri Compromise. The Missouri quarter depicts Lewis and Clark's historic return to St. Louis down the Missouri River, with the Jefferson National Expansion Memorial (Gateway Arch) in the background. The quarter is inscribed "Corps of Discovery 1804-2004."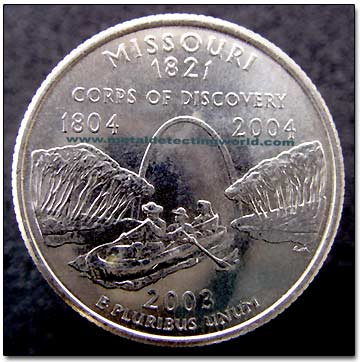 The "Show Me State" got its nickname because of the devotion of its people to simple common sense. In 1899, Rep. Willard D. Vandiver said, "Frothy eloquence neither convinces nor satisfies me. I'm from Missouri. You've got to show me." It is easy to imagine President Thomas Jefferson saying "show me" as he sent Lewis and Clark forth on their trek into the uncharted Louisiana Purchase territory. Their 8,000-mile journey westward and back, the greatest U.S. military expedition ever, began in St. Charles, Missouri, in 1804 and ended when they returned to St. Louis, Missouri in 1806.
Release Date: August 04, 2003
Statehood Date: August 10, 1821
Mintage Numbers: 453,200,000
ARKANSAS STATE QUARTER
Arkansas was admitted into the Union on June 15, 1836. Arkansas was acquired through the Louisiana Purchase and later became the Arkansas Territory before gaining statehood. The Arkansas quarter design bears the image of rice stalks, a diamond and a mallard gracefully flying above a lake.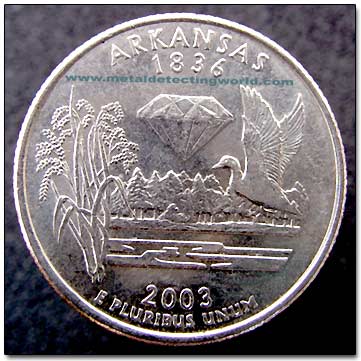 Arkansas, the "Natural State," has an abundance of clear streams and rivers, and has more than 600,000 acres of natural lakes. Arkansas is also known for its sportsmanship and boasts mallard hunting as a main attraction for hunters across the nation. Visitors to Arkansas can search Crater of Diamonds State Park for precious gems including diamonds. The mine at Crater of Diamonds State Park is the oldest diamond mine in North America, and the only one in the United States open to the public - visitors get to keep what they find. Visitors can also experience "Rice Fever" in Arkansas. W.H. Fuller grew the first commercially successful rice crop in Arkansas. Soon after, thousands of acres of the Grand Prairie were changed to cultivate rice, and Arkansas became the leading producer of the grain in the United States.
Release Date: October 20, 2003
Statehood Date: June 15, 1836
Mintage Numbers: 457,800,000
Total of state quarters minted in 2003: 2,280,400,000
Year of issuance - | 1999 | 2000 | 2001 | 2002 | 2003 | 2004 | 2005 | 2006 | 2007 | 2008 |
Back to US Quarters Page 3 | Numismatic Corner | US Coins Page | Coin Photo Galleries | MetalDetectingWorld Home
Sources: Encyclopedia Of U.S. Coins by Mort Reed and The Official Red Book of United States Coins by R.S. Yeoman.