How To Use Minelab XChange 2 FOR EDITING - Illustrated Tutorial, page 1
Modifying CTX-3030 Discrimination Patterns, Tone ID Profile & Program Settings on Your PC or Laptop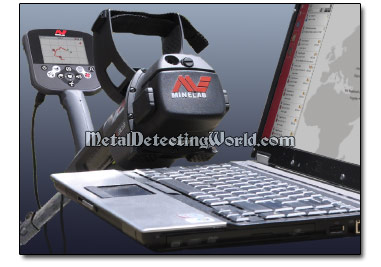 With Minelab XChange 2 application, it is much easier to create and edit Discrimination patterns and Tone ID Profiles, create new User Modes, and adjust detector's Universal Settings on your Personal Computer (PC) or laptop, and in the comfort of your home. Then you can easily download/upload User Modes to and from your Minelab CTX-3030 metal detector through a USB cable.
Unfortunately the User Manual for XChange 2 has been found to be very confusing by many users.
In fact, all info on editing Discrimination patterns and tone ID Profiles is accompanied with just one illustration and fits in ONE PAGE (!) of the User Manual. To cover the same two aspects of the XChange 2 usage, this tutorial includes 10 pages with 30 illustrations. However, the following illustrated tutorial only covers in details the editing and downloading/uploading aspects of the XChange 2 program usage.
All the below-described procedural steps may seem "too much" to you, but in reality, after completing the editing and uploading/downloading steps a few times, you will sure find them simple. The Minelab XChange 2 application is user-friendly indeed.
TABLE OF CONTENTS:
1) How To Use XChange 2 for Creating & Editing CTX-3030 DISCRIMINATION PATTERN - page 2
• Start XChange 2 After Installation - page 2
• Create User Collection - page 2
• Connect CTX-3030 Metal Detector to your PC - page 3
• Upload Your User Mode from CTX-3030 to XChange 2 Folder - page 3
• • Create New User Mode on Your PC - page 3
• Edit Discrimination Patterns with User Mode Editor - page 4
2) Use XChange 2 for Adjusting Mode Settings - page 7
3) How To Use XChange 2 for Creating & Editing CTX-3030 TONE ID PROFILE - page 8
• Select Tone ID Profile Type - page 9
• Resize Tone Bins - page 10
• Change Tone Pitches of Tone Bins - page 11
4) How To Use XChange 2 for Adjusting Detector's Universal Settings - page 13
5) How To Transfer (Download) Modified User Mode To Your CTX 3030 Metal Detector - page 15
If you would like to recommend this XChange 2 Tutorial to other CTX 3030 users, please click the button:
E-Trac & CTX-3030 Programs - Index page | Secrets For Beginners | Metal Detector Reviews Worldwide | Useful Articles page

Home